Car stickers are adhesive labels or decals that are affixed to the rear bumper or other visible areas of a vehicle. They have been a popular way for people to express themselves and their beliefs for decades.Bumper stickers can come in a variety of shapes, sizes, and designs. They can be customized with personalized messages or slogans, or feature pre-made designs related to politics, humor, sports, social issues, and more. Some people even use bumper stickers as a form of advertising for their business or cause. Presenting you with some Free car sticker SVGs (Cricut designs, SVG files, and clip art for crafters and DIY projects). Use these Bumper sticker SVGs to express yourself and share your beliefs with others.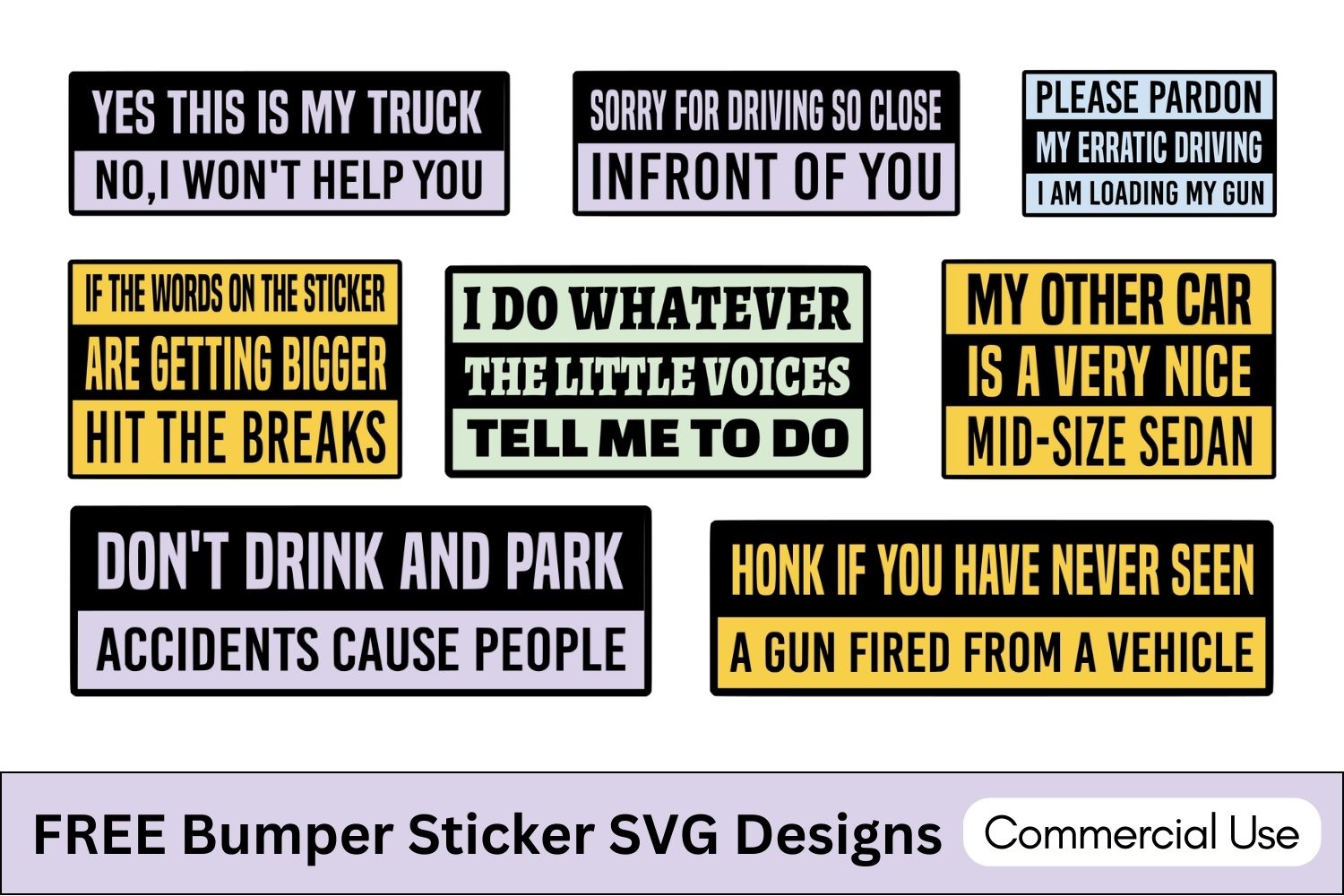 Free Bumper sticker SVG designs are a versatile tool for personal expression, marketing, fundraising, awareness-raising, branding, and commemoration. The designs can be used on Vinyl, paper, polyester, magnetic, and reflective materials.The choice of material for bumper stickers will depend on the intended use and the desired durability.
Bumper Sticker SVGs (Free Cricut SVG Designs & Cliparts)
Materials for Bumper Stickers SVG Designs
Bumper stickers SVG designs can be used on a variety of materials, depending on the intended use and application. Here are some common materials used for bumper stickers:
1. Vinyl: Vinyl is a popular material for bumper stickers due to its durability and weather resistance. Vinyl stickers can be easily applied to car bumpers, windows, and other smooth surfaces. They are also easy to remove without leaving behind residue.
2. Paper: Paper bumper stickers are a more affordable option for temporary use. They are often used for events, campaigns, or promotions that only last for a short period of time. However, paper bumper stickers are not as durable as vinyl and may not withstand weather conditions as well.
3. Polyester: Polyester bumper stickers are another durable option that can withstand harsh weather conditions. They are often used for outdoor applications and can be easily removed without leaving behind residue.
4. Magnetic: Magnetic bumper stickers are a versatile option for vehicles. They can be easily applied and removed, making them a convenient option for temporary use. Magnetic bumper stickers are often used for advertising or political campaigns.
5. Reflective: Reflective bumper stickers are a safety feature for vehicles, particularly for nighttime driving. They reflect light, making them more visible to other drivers. They are often used for emergency vehicles or to increase visibility for bicycles or motorcycles.
Related designs