Vector Word Cloud Generator
Generate Free Word Clouds from your favorite words. Input your text and upload your own image to generate amazing color word cloud designs perfect for cut and print. Download the file and use it to create personalized products of your own choice. Print it on merchandise like t-shirts, bags or coffee mugs.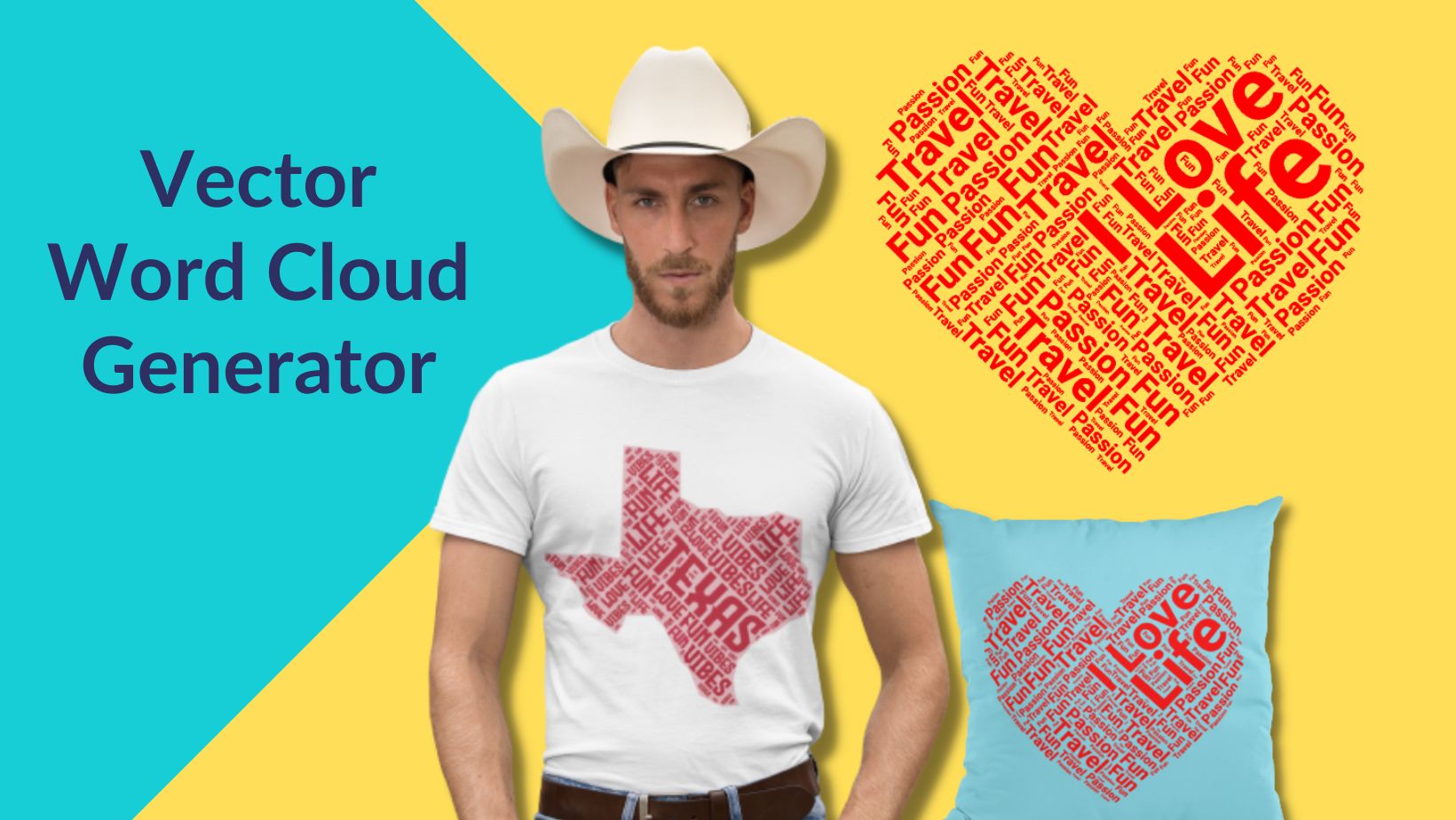 Steps to generate word cloud
Input your favorite words
Enter your words in the text input section.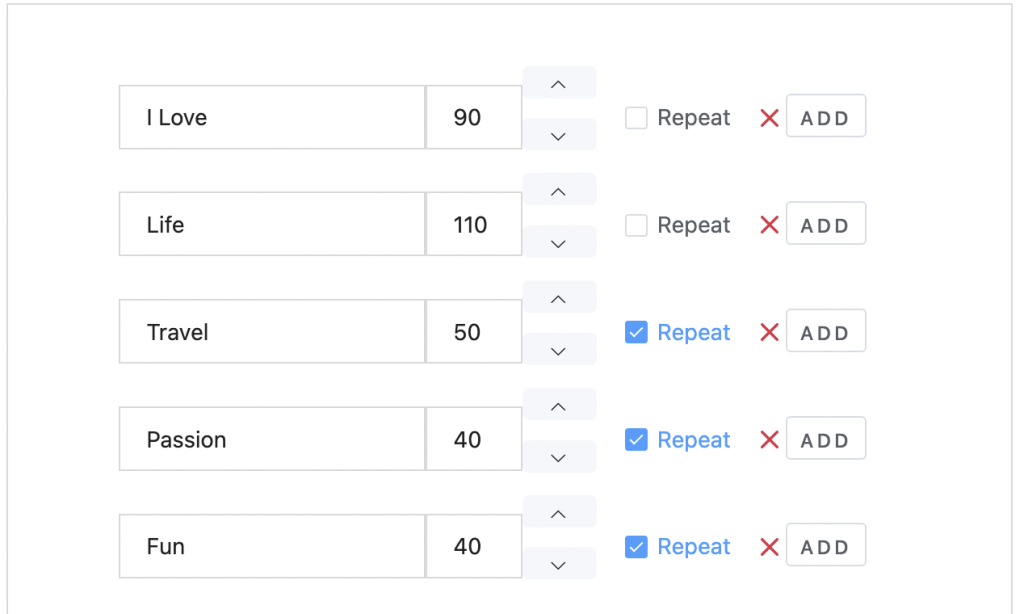 Check the word as repeatable by selecting the repeat checkbox.
Click on the generate button at the bottom to start generating the word cloud design.
Upload your own photo
Upload your own image to test the output design.
Choose from word setting options
Chose a font from the font dropdown or adjust the word gap and opacity of the uploaded photo.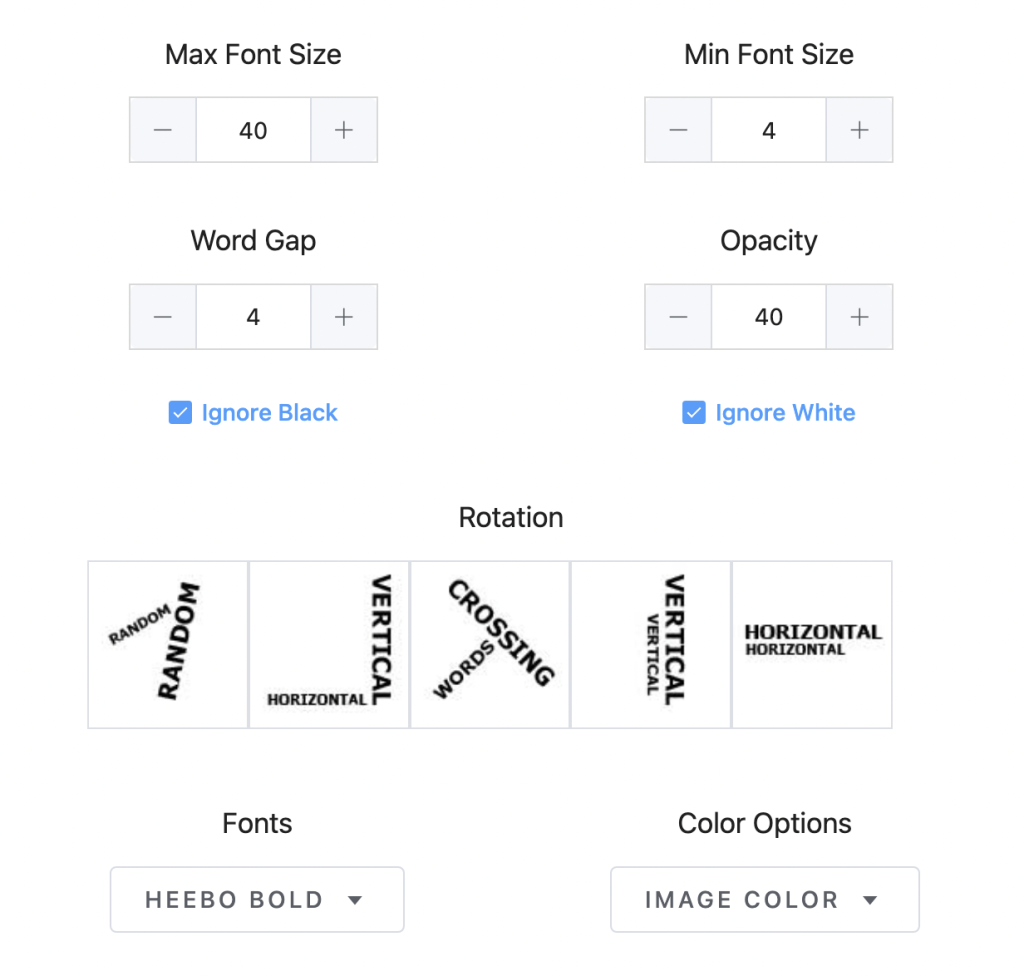 Choose word orientation
Select the rotation options to generate the word clouds with words in a different orientation.
Download the final output file
Download the file and use it to create personalized products of your own choice.

Print or cut the output file.
Print it on merchandise like t-shirts, bags, or coffee mugs.
FAQ
What is a Word Cloud Generator?
A Word Cloud generator is otherwise known as a Word Collage maker or Word Art shape generator which is a visual representation of text data. Also, it is a method to see the most often-used words in a given text. Each word in the word cloud is directly proportional to word frequency in the text.
Word clouds are commonly used to visualize the topics covered on a website or in a document. They can also be used as a tool for brainstorming and identifying keywords. It can be used for various purposes, such as helping to identify trends in data or to see what words are being used most often.
A word cloud generator can use different means, such as the Google Adwords Keyword Tool, a free word cloud generator, that allows you to create a word cloud by entering a few simple keywords.
A word bubble generator can highlight the most used words in a document. In a word bubble maker when analyzing text, it is essential to look for the most common words and phrases, as they will help you get a complete picture of what is written.
A word art creator chooses the words that are the most common and essential. They are usually frequently used in writing but may not be the most critical terms, as they may not carry an emotional impact.
Word Cloud Vs. Tag Cloud
A word cloud is a visual representation of the frequency of usage for a set of words. A tag cloud, on the other hand, is a visual representation of the tags associated with a document or set of documents. Tag clouds can be used to get a quick overview of the topics in a document, which can be helpful when searching for terms.
What are the benefits of using word clouds?
Word clouds help determine what your audience really thinks.
To understand the feelings of your audience/employees about a topic/situation.
The audience can summarize their view of a topic.
Within an intervention/workshop, you can use it to monitor change.
You have an understanding of the topic you are addressing.
Allows you to help your audience determine what is most important to them.
Brainstorm concepts or ideas.
The audience members are able to offer their own feedback in their own choice of terms.
Helps in identifying new topics or ideas to target.
Facilitate peer to peer feedback
Helps to gather and present.
Word Clouds are quick and informative
The voting web page enables the presenter to get audience responses in real-time.
Word Cloud creation are exciting and emotional
The audience feels part of the session.
Give an opportunity for joint creation of content.
This helps the audience to drive the discussion.
Word Clouds are engaging
The audience feel involved by supplying answers to new questions.
They're eager to watch the evaluations of other people from the audience members.
Word clouds can be effective icebreakers and can provide an entry point for discussion.
Word Clouds are visual
One format our brains prefer is this one.
Your audience is likely to be more engaged in this visual format than any with bullet points.
Why Are Unique Word Clouds Still Popular?
Word Clouds are a powerful way to visualise what your audience really thinks about a topic. That's why Word Clouds are still popular.
What is this word cloud tool about?
Word Cloud Generator is an online application that can be used by anyone to create unique images of words. Excellent quality results can be obtained in a quick amount of time, even for users with no previous experience in the field.
What are the formats available for download?
You can download the file in different formats such as PNG, SVG and PDF.
How can I create my own word graphic generator or free wordle generator?
You can easily create your own word graphic generator or free wordle generator with the help of Word Cloud Generator application.
How do I create a word cloud art for free?
You can create amazing word cloud art for free by using the Word Cloud Generator application from Vectordad.
Which Word Cloud Maker application is the best?
The Word Cloud Maker application from Vectordad is the best.It is so easy to use. Anyone even with no experience can generate clickable word clouds or word cloud letter shape.
Is there any Vector Word graphic generator or tag cloud creator application available online for FREE?
Yes, the Word Graphic generator application from Vectordad is totally free for use.
What is a Calligram Creator?
A Calligram creator is an application to create a calligram (a word or piece of text in which the design and layout of the letters create a visual image related to the meaning of the words themselves) from a picture.
Related designs