Create your Curved Text effects using the all amazing online Curved Text Generator tool. Just type in your text and watch the text change in the preview. Simple and easy to use. Upload your own fonts, font style, letter spacing, color and font size using the fun-to-use controls. The bent text generator has so many different templates to try.
TIPS:
Follow the step by step
help tutorial
on how to use the tool effectively.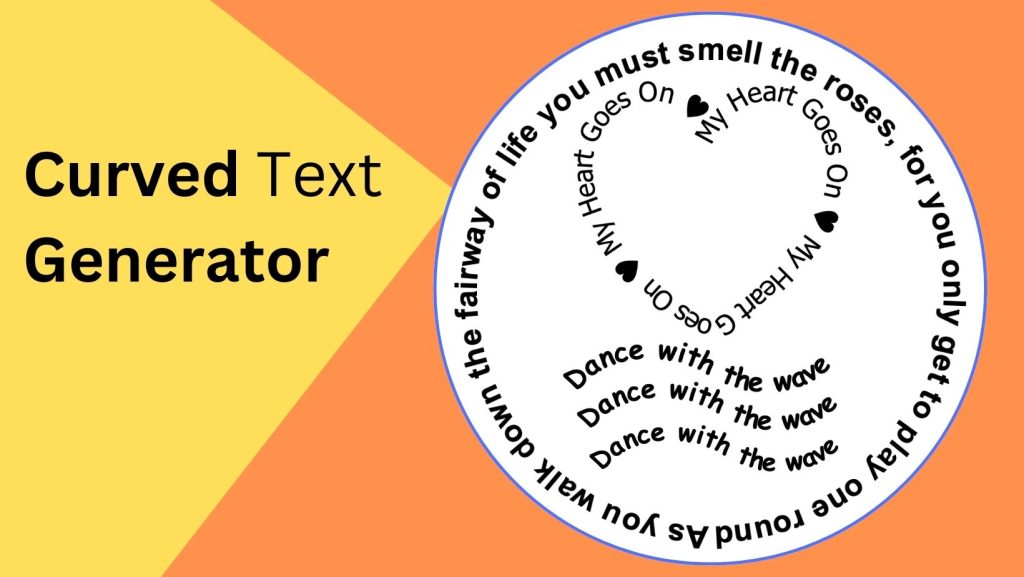 Listed below are the templates for the curved text generator. Click on the "Edit Design" button to begin.

Heart shaped curved text:
Edit Design

Wavy text on shape:
Edit Design

Editable curved text on a circle:
Edit Design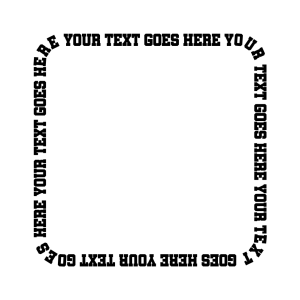 Circular text on a square shape:
Edit Design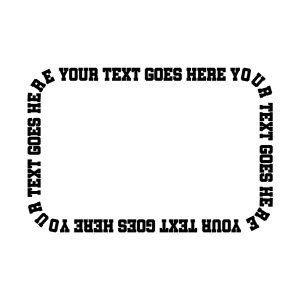 Use the design to place text on a rectangle:
Edit Design
Psst! You might also like some of these similar font generators.
SUGGEST US
We are constantly working on enhancing the application by adding new features and various new templates. If you experience any issues or you have any suggestions for us with this curved text generator tool, feel free to contact us at info@vectordad.com.
The shape template includes wavy, heart shape, circle, rectangle, diamond, arc, arc up, arc down, and rounded. Please share with us any templates that you would like us to add to the gallery.
Did you know: The first typeface was a Blackletter variety used by Johannes Gutenberg on the first printing press, starting in 1440.
DESIGN, DOWNLOAD & SELL
Use our free curved text output file to create your own vinyl decals and stickers, t-shirts and apparel or iron-on vinyl, customized mugs and drinkware with vinyl or Infusible Ink transfers, personalized gifts such as keychains, ornaments, and coasters, customized home decor items like wall art, photo frames, clocks, and door mats, customized wedding and event decorations, such as centerpieces, place cards, and signs.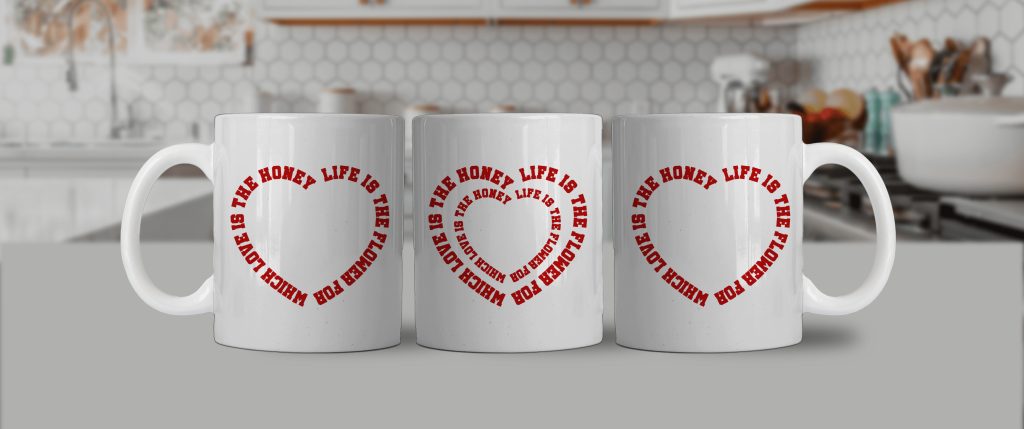 You can also use it to create personalized stationery, including greeting cards, invitations, and envelopes, customized phone cases and laptop sleeves, customized car decals and magnets, personalized sports and fitness gear, such as water bottles, gym bags, and yoga mats.
The file can be opened on various professional software like Adobe Illustrator, CorelDRAW, Adobe Photoshop, Inkscape, Sketch, Affinity Designer, Gravit Designer, Sketchbook, Cricut Design Space, Silhouette Studio, Powerpoint, etc.
Sell these designs as downloables on various marketplaces like Etsy, Design Bundles, Creative Market, GraphicRiver, Sofontsy, Design Cuts, Society6, Redbubble, Gumroad, 99designs, ArtStation, Shutterstock, Adobe Stock and more. Make thousands of dollars selling on these platforms. You can also make Print-On-Demand products such as T-Shirts and Mugs and sell them on other marketplaces like Redbubble, Spreadshirt, Printify, Printful, Zazzle, Spring etc.
Design your own curved text for free and get the printable version in no time. Use this circular text generator to create: curved text design, circular text, text on a curve, curved text effects, arced text, bending text, curved text copy and paste, curving letters, text in a spiral, wave text, text in a circle, text in an ellipse, twisted text, text in a semi-circle, circle text, warped text, curvy font, arched text, arch words, wavy font, curved words, circle text generator, text on path, curved text logos, SVG text, CSS curved text, curved lettering, warp text into shape, text art, and text that follows a path. 
Pin it here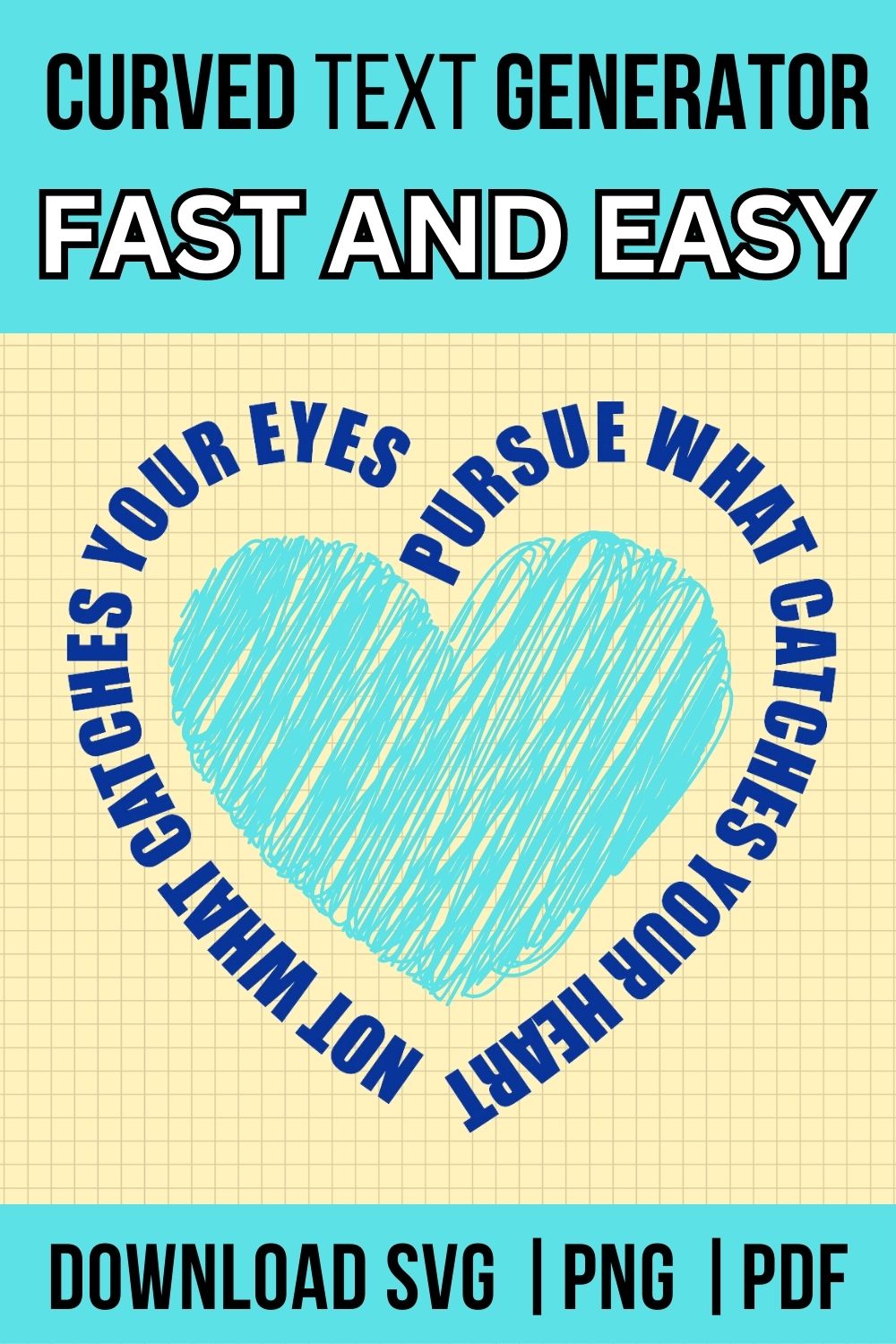 Other Patterns, Stencils And DIY Designs
With these custom designs, you can create your own craft personalized, custom projects for your home, or even for selling online or at craft shows. These unique designs are perfect for coloring pages and sheets, crochet patterns, drawing and painting, SVG files for Cricut and Silhouette machines, hobbies, holiday crafts, iron-on designs, kid crafts, laser cutting, needlecrafts, preschool printables, quilting, sewing, scrapbooking, sign making, string art (nail art), wall art, wedding crafts, woodworking projects, and other delightful DIY arts and crafts. Now create and make something truly special with these wonderful design resources!
These printable designs can be easily transferred onto an array of materials, such as awards, baby bibs, bag tags, boards, face masks, phone cases, handbags, ID tags, key chains, kitchen wares, license plates, magnets, mouse pads, mugs, name badges, ornaments, pillows, photo frames, photo panels, plaques, signs, socks, tote bages, cardboard, cardstock, canvas, construction paper, fabric, felt, foam, glass, leather, metal, notebook paper, paper, parchment paper, photo paper, plastic, plexiglass, poster board, rubber, steel, vinyl, wax paper, wrapping paper, wood, and many more.
---
OTHER RELATED DESIGNING TOOLS
STEP BY STEP HELP TUTORIAL
It's super easy and fun to make your circular curved text in no time. Choose the shape templates and follow the steps below.
1. Type in your text:
Type your name, quotes, or sayings in the textbox on top of the right-hand side section. Enter your text to directly preview the changes to the text on the stage on the left.
2. Upload fonts:
Next, upload your own font. The font change directly reflects the stage.
3. Select fonts:
Next, select the font from the dropdown to switch between different fonts. The font change directly reflects the stage.
4. Select the path size:
Next, select the size of the path (L,M,S,XS) from the dropdown to switch between different sizes. The size change directly reflects the stage.
5. Select the font style:
Make the text bold or italic or capital or small using the B or I or Aa buttons just beside the font dropdown.
6. Change font color:
Next, change the font color from the color picker to switch between different colors. The font color change directly reflects the stage.
7. Change font size:
Drag the font size slider to change the font size to fit the text around the spiral path.
8. Start Offset:
Next, if you want to change the starting point of the text then click the offset. The offset change directly reflects the stage.
9. Alter letter spacing:
Add space between the characters by using the letter spacing slider.
10. Enter the Pixel:
Next, enter the pixel size of the downloaded image to maximum upto 6000.
11. Download the final output:
Apply the above changes and download the final output as a high-quality PNG image or JPG image or PDF or vector SVG file format for your next great project.
Why Different Fonts Are Important:
Attracts the Customer
The beauty of the form lies in its uniqueness. No font is similar to another. You may have noticed that curved texts give a sense of handwritten text. Therefore, our curved text generator is more popular among customers. They often choose curved fonts for gifts so that it gives a personalized essence.
Works as a Medium of Communication
Ultimately the gifts serve as a medium of communication. So, the message on the gift must be written precisely and clearly. Multiple options in our curved text generator help you play with the mood and space. To make the message clear, you can choose a font that is easily readable.
Conveys a Certain Mood or Feeling
Different fonts have different moods undoubtedly. Therefore, our curved text generator gives you as many options as you want. You never fall short of options to convey what your message actually tries to express. That is the perfect way to satisfy your clients and bring more clients on board.
Helps in Creating Harmony
There must be harmony in the font and its appearance. When the curved text generator is with you, you do not face trouble with this kind of creation. Our generator has all options that help you deliver the best product!