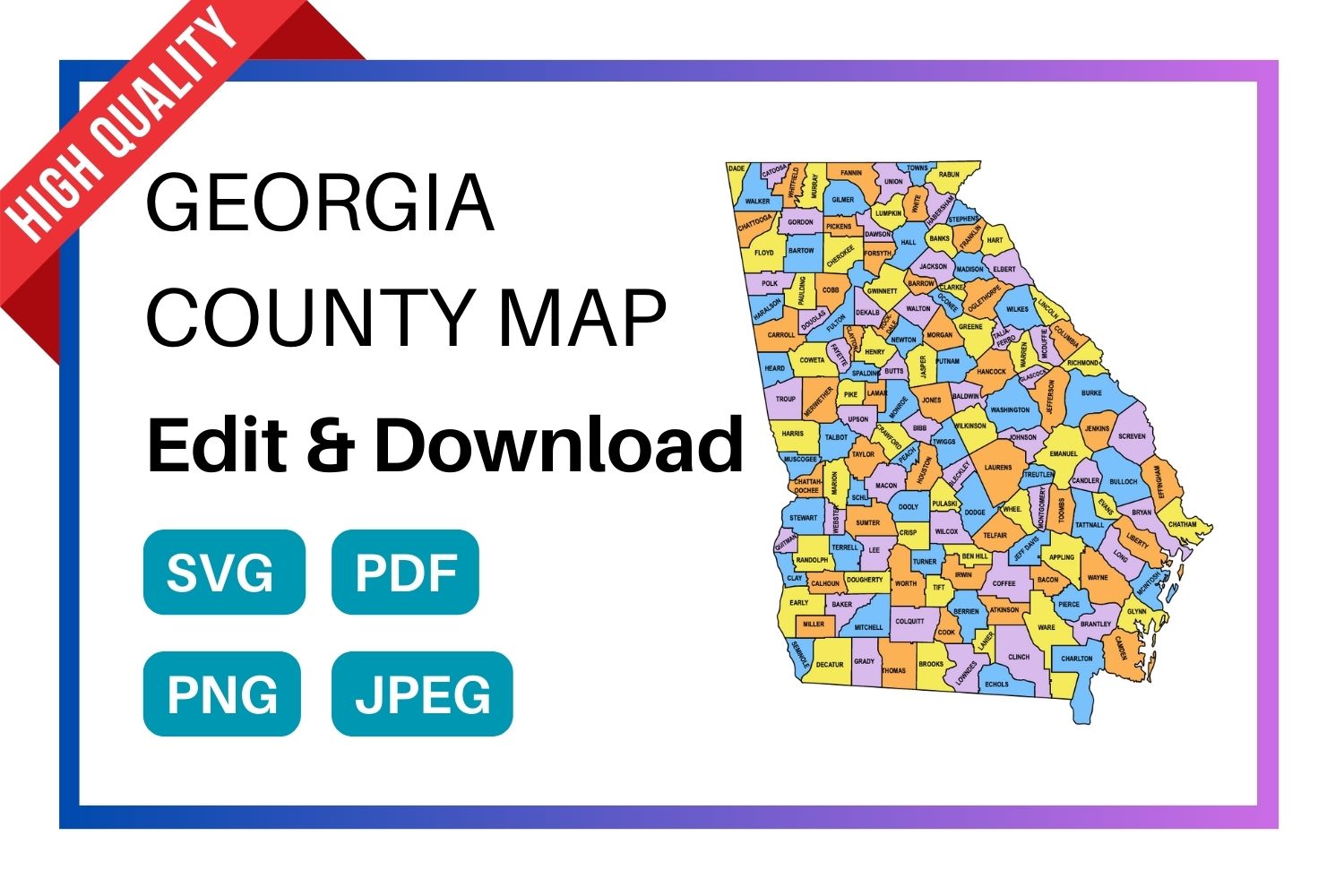 Below are the FREE editable and printable Georgia county map with seat cities. These printable maps are hard to find on Google. They come with all county labels (without county seats), are simple, and are easy to print. This Georgia county map is an essential resource for anyone seeking to explore and gather more information about the counties of the state.
TIPS:
Follow the step by step
help tutorial
on how to edit and download the county map effectively.
Listed below are the different types of Georgia county map. Click on the "Edit Download" button to begin.
1. Georgia County Map (Multi-colored)
---
2. Printable Georgia County Map Outline with labels
---
3. Georgia Colored Blank County Map
---
4. Georgia County Outline Map
Psst! You might also like some of these other patterns of US maps.
SUGGEST US
We are constantly working on the enhancment by adding various new templates. If you experience any issues or you have any suggestions for us with this editor tool, feel free to contact us at info@vectordad.com.
The templates includes Georgia multi colored county map, Georgia county map outline with labels, Georgia colored blank county map, and Georgia county outline map with border. Please share with us any templates that you would like us to add to the gallery.
Georgia county map, whether editable or printable, are valuable tools for understanding the geography and distribution of counties within the state. Printable maps with county names are popular among educators, researchers, travelers, and individuals who need a physical map for reference or display. They can be used in classrooms for teaching geography, in offices for planning and analysis, or as wall maps for decoration.With their customizable and printable features, The maps of Georgia counties provide flexibility and convenience for users to use maps with county area boundaries that meet their specific needs. Whether used for educational, professional, or personal purposes.
---
List of 159 Georgia counties with seat cities
Appling – Baxley
Atkinson – Pearson
Bacon – Alma
Baker – Newton
Baldwin – Milledgeville
Banks – Homer
Barrow – Winder
Bartow – Cartersville
Ben Hill – Fitzgerald
Berrien – Nashville
Bibb – Macon
Bleckley – Cochran
Brantley – Nahunta
Brooks – Quitman
Bryan – Pembroke
Bulloch – Statesboro
Burke – Waynesboro
Butts – Jackson
Calhoun – Morgan
Camden – Woodbine
Candler – Metter
Carroll – Carrollton
Catoosa – Ringgold
Charlton – Folkston
Chatham – Savannah
Chattahoochee – Cusseta
Chattooga – Summerville
Cherokee – Canton
Clarke – Athens
Clay – Fort Gaines
Clayton – Jonesboro
Clinch – Homerville
Cobb – Marietta
Coffee – Douglas
Colquitt – Moultrie
Columbia – Appling
Cook – Adel
Coweta – Newnan
Crawford – Knoxville
Crisp – Cordele
Dade – Trenton
Dawson – Dawsonville
DeKalb – Decatur
Decatur – Bainbridge
Dodge – Eastman
Dooly – Vienna
Dougherty – Albany
Douglas – Douglasville
Early – Blakely
Echols – Statenville
Effingham – Springfield
Elbert – Elberton
Emanuel – Swainsboro
Evans – Claxton
Fannin – Blue Ridge
Fayette – Fayetteville
Floyd – Rome
Forsyth – Cumming
Franklin – Carnesville
Fulton – Atlanta
Gilmer – Ellijay
Glascock – Gibson
Glynn – Brunswick
Gordon – Calhoun
Grady – Cairo
Greene – Greensboro
Gwinnett – Lawrenceville
Habersham – Clarkesville
Hall – Gainesville
Hancock – Sparta
Haralson – Buchanan
Harris – Hamilton
Hart – Hartwell
Heard – Franklin
Henry – McDonough
Houston – Perry
Irwin – Ocilla
Jackson – Jefferson
Jasper – Monticello
Jeff Davis – Hazlehurst
Jefferson – Louisville
Jenkins – Millen
Johnson – Wrightsville
Jones – Gray
Lamar – Barnesville
Lanier – Lakeland
Laurens – Dublin
Lee – Leesburg
Liberty – Hinesville
Lincoln – Lincolnton
Long – Ludowici
Lowndes – Valdosta
Lumpkin – Dahlonega
McDuffie – Thomson
McIntosh – Darien
Macon – Oglethorpe
Madison – Danielsville
Marion – Buena Vista
Meriwether – Greenville
Miller – Colquitt
Mitchell – Camilla
Monroe – Forsyth
Montgomery – Mount Vernon
Morgan – Madison
Murray – Chatsworth
Muscogee – Columbus
Newton – Covington
Oconee – Watkinsville
Oglethorpe – Lexington
Paulding – Dallas
Peach – Fort Valley
Pickens – Jasper
Pierce – Blackshear
Pike – Zebulon
Polk – Cedartown
Pulaski – Hawkinsville
Putnam – Eatonton
Quitman – Georgetown
Rabun – Clayton
Randolph – Cuthbert
Richmond – Augusta
Rockdale – Conyers
Schley – Ellaville
Screven – Sylvania
Seminole – Donalsonville
Spalding – Griffin
Stephens – Toccoa
Stewart – Lumpkin
Sumter – Americus
Talbot – Talbotton
Taliaferro – Crawfordville
Tattnall – Reidsville
Taylor – Butler
Telfair – McRae
Terrell – Dawson
Thomas – Thomasville
Tift – Tifton
Toombs – Lyons
Towns – Hiawassee
Treutlen – Soperton
Troup – LaGrange
Turner – Ashburn
Twiggs – Jeffersonville
Union – Blairsville
Upson – Thomaston
Walker – LaFayette
Walton – Monroe
Ware – Waycross
Warren – Warrenton
Washington – Sandersville
Wayne – Jesup
Webster – Preston
Wheeler – Alamo
White – Cleveland
Whitfield – Dalton
Wilcox – Abbeville
Wilkes – Washington
Wilkinson – Irwinton
Worth – Sylvester
---
State County Maps (Printable State Maps with County Lines)
Uses and Types of Materials
You can utilize these patterns, stencils, templates, models, and shapes for creating other unique objects or sublimation. With these designs you can create your own craft personalized, custom projects for your home, or even for selling online or at craft shows. These versatile designs are perfect for coloring pages and sheets, crochet patterns, drawing and painting, SVG files for Cricut and Silhouette machines, hobbies, holiday crafts, iron-on designs, kid crafts, laser cutting, needlecrafts, preschool printables, quilting, sewing, scrapbooking, sign making, string art (nail art), wall art, wedding crafts, woodworking projects, and other delightful DIY arts and crafts. Now create and make something truly special with these wonderful design resources!
These printable patterns can be easily transferred onto an array of materials, such as cardboard, cardstock, canvas, construction paper, fabric, felt, foam, glass, leather, metal, notebook paper, paper, parchment paper, photo paper, plastic, plexiglass, poster board, rubber, steel, vinyl, wax paper, wrapping paper, wood, and so many other types of materials. Experiment with different mediums and let your imagination soar as you create stunning projects that reflect your unique style and vision.
Did you know: Georgia is known as the "Peach State", this nickname reflects the state's significant contributions to peach production in the United States.
STEP BY STEP HELP TUTORIAL
It's super easy and fun to edit and download county map in no time. Choose the shape templates, click the edit/download button and follow the steps below.
1. Change color:
Change the map color from the color picker (e.g., red, orange, yellow, green, blue, purple, pink, brown, gray or grey, black, white, beige, turquoise, gold, silver, lavender, indigo, magenta, maroon, olive, teal, navy, peach, cream, crimson, fuchsia, chartreuse, coral, khaki, mauve, rust, salmon, tan, violet, burgundy, chocolate, slate, taupe, eggplant, or forest green) to switch between different colors. The color change directly reflects the stage.
2. Enter the Pixel:
Next, enter the pixel size of the downloaded image to maximum upto 6000.
3. Download the final output:
Apply the above changes and download the final output as a high-quality PNG image or JPG image or PDF or vector SVG file format for your next great project.