St. Patrick's Day is a holiday that is celebrated with green-colored decorations, shamrocks, and leprechauns. It is a great time to get creative and decorate everything from t-shirts to home decor items. Use these free St. Patrcik's Day sayings and quotes (Cricut designs, SVG files, and clip art for crafters and DIY projects) on t-shirts, cups, caps, tumblers, wall art, etc.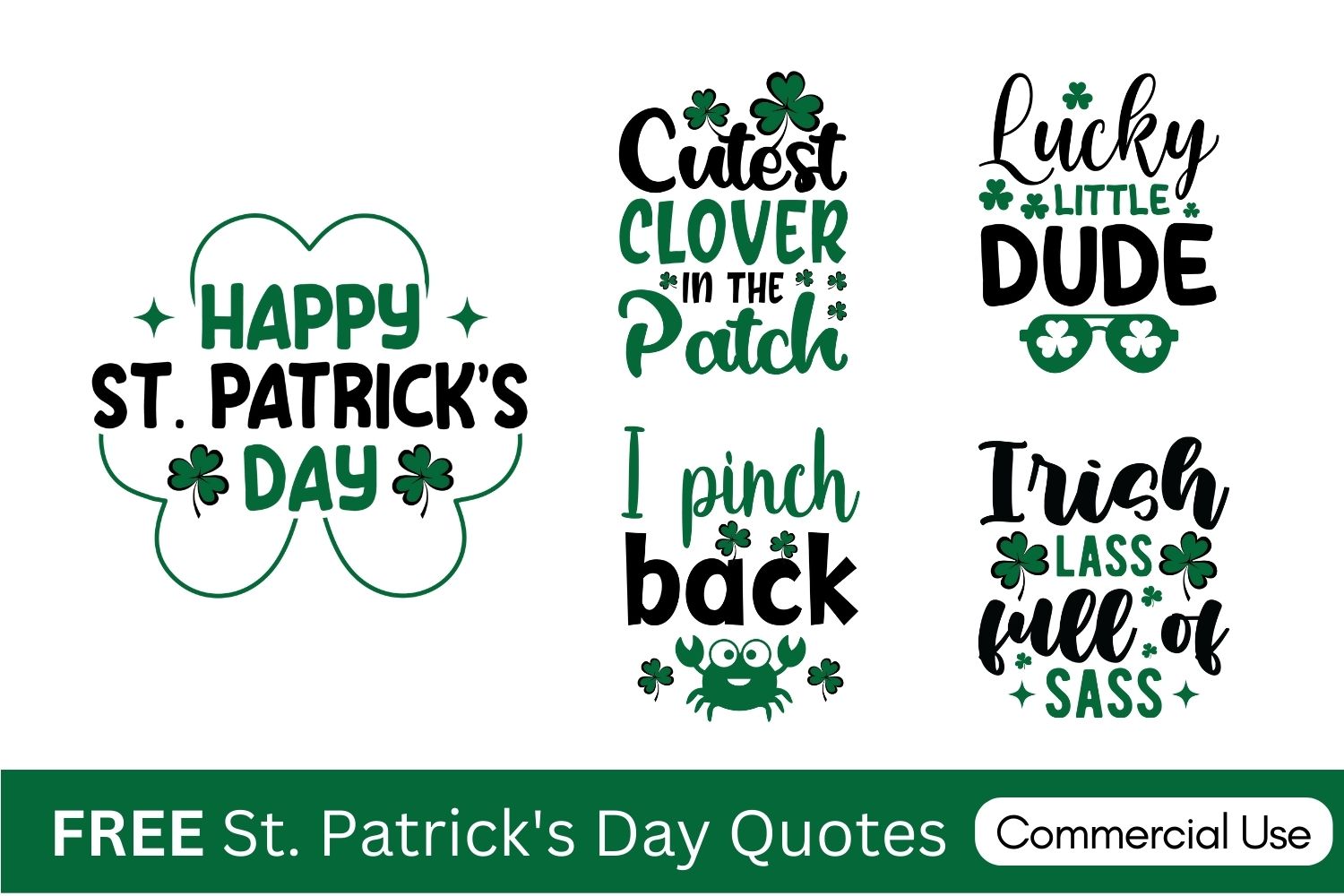 These free Cricut SVG designs and cliparts are a great way to get into the spirit of St. Patrick's Day and add some green and gold to your projects. Whether you're looking to create something for yourself or for a loved one, these designs are sure to bring some luck and joy to your celebrations.
St.Patrick's Day Sayings & Quotes (Free Cricut SVG Designs & Cliparts)
Sayings & Quotes (Cliparts and Cricut SVG Designs)
Use these patterns and designs for scrapbooking, cutting, notching, embossing, and bending hundreds of materials. Create unique, personalized projects for your home and garden, trade fairs, online sales, and more. Use these printable quotes and sayings, SVG files, for coloring pages and coloring sheets, Cricut designs, cups, and cutting designs,hobbies, needlework, vacation home decorations, iron-on designs, kid jobs, laser cutting, needlecrafts, preschool printouts, quilting, garment decoration, sewing, scrapbooking, sign art, shirt decoration, t-shirt decoration, tumblers, wallpaper, wall paintings, weddings, and woodworking projects are among the major categories in this list of things that we can decorate. Fonts, designs, patterns, templates, stencils, clipart, .svg files, and vector-based cut files work with Cricut cutting machines, Silhouette cutting machines, and Brother cutting machines.
Frequnetly Asked Questions (FAQ's)
What is St. Patrick's Day?
St. Patrick's Day is a cultural and religious holiday celebrated on 17th March, honoring the patron saint of Ireland, Saint Patrick. It is a day to celebrate Irish culture, heritage and the arrival of Christianity in Ireland.
What is an SVG file?
SVG stands for Scalable Vector Graphics. It is a file format for 2D graphics, based on XML and designed to be scalable without losing quality. SVG files can be edited and resized without losing clarity and are often used for logos, icons, and illustrations.
What are St. Patrick's Day Sayings and Quotes SVG designs and cliparts?
St. Patrick's Day Sayings and Quotes SVG designs and cliparts are digital graphics in the SVG file format, specifically created to celebrate the holiday. These designs can include shamrocks, leprechauns, pots of gold, rainbows, etc. and can be used for various purposes such as creating invitations, decorations, and clothing items.
Can I use these free St. Patrick's Day Sayings and Quotes SVG designs and cliparts for commercial purposes?
Yes, you can use these designs for commercial purpose.
Related designs
̦