Free Christmas Icons SVG (Printable, Cricut designs, Templates, and clip art for crafters and DIY projects). Use these Christmas icon svg on ornaments, decorations, or as coloring pages, scroll saw patterns, cutting machines (Cricut and Silhouette), etc.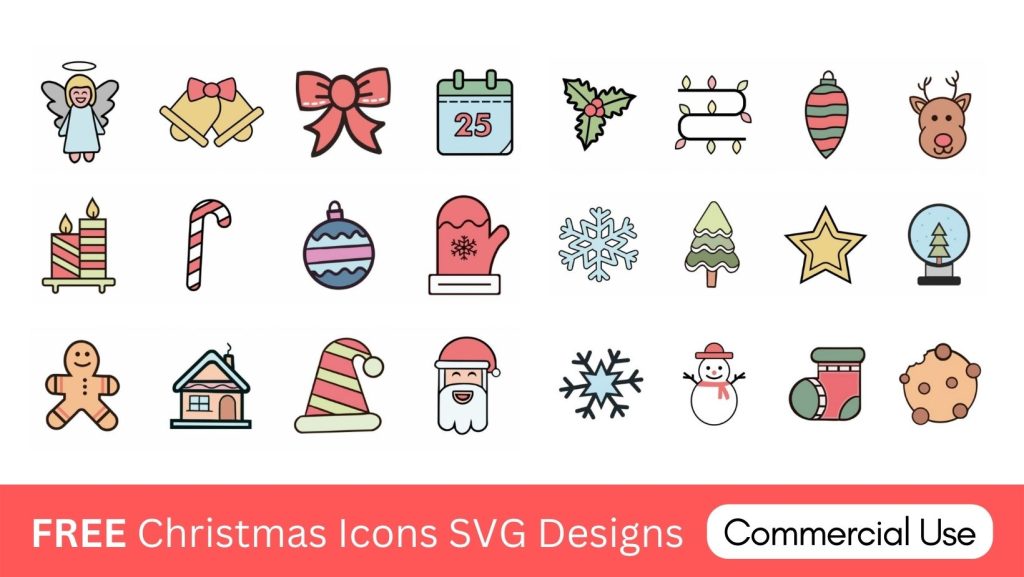 Use these Christmas icons, patterns, stencils, templates and your own ornaments and decorations, as well as decals, wall stickers, and stencils by cutting machines (Cricut and Silhouette). You need to use the stencils also for painting and coloring stencils. You can also use them for sewing and quilting, for woodworking patterns, and for craft projects. These patterns or designs can be downloaded in SVG (Scalable Vector Graphics) format. These SVG format files can be converted to other formats like DXF, JPG, PNG, and EPS using the converters.
Printable Christmas Icons SVG
Use of Vector Designs
Dancing, crochet crafts, seashell art, drawing, anion patterns, and more can all be created with the help of vector designs such as prints, wall hangings, and pillow covers. They are also great for creating attractive online displays, banners, gifts, and many more products to sell. This is also a great technique for coloring books, SVG file (used by Silhouette and Cricut cutting machines), hobbies, holiday crafts, and Cricut iron-on designs, kid crafts, laser cutting, station embroidery, needlecrafts, woodworking projects, school printables, scrapbooking, sign making, nail-art and also for various types of DIY arts and crafts.
Materials On Which Vector Designs Can Be Applied
Individual blocks in vector graphics can be retracted or removed, laminated, and used in prints. They can be laminated on cardboard, billboard stock, cardstock, canvas, construction paper, felt, foam, glass, leather, metal, notebook paper, paper, parchment paper, photo paper, plastic, plexiglass, poster board, rubber, steel, vinyl, wax paper, wood, or material of any specification.
Related designs