Card stock is a type of paper that is generally thicker and more durable than normal writing and printing paper. It is also more flexible and thinner than cardboard and probably the best for arts and crafts work. It is often used for business cards, postcards, scrapbooks, catalog covers, and other such occasions which require more durability than normal paper. Since it is heavier and sturdier than standard or regular paper, therefore it is the best choice for paper crafting and card making. The paper is usually smooth, maybe a bit textured or glossy. When cardstock has a glossy coating on one or both sides and is used in business cards and book covers, then it is called cover stock.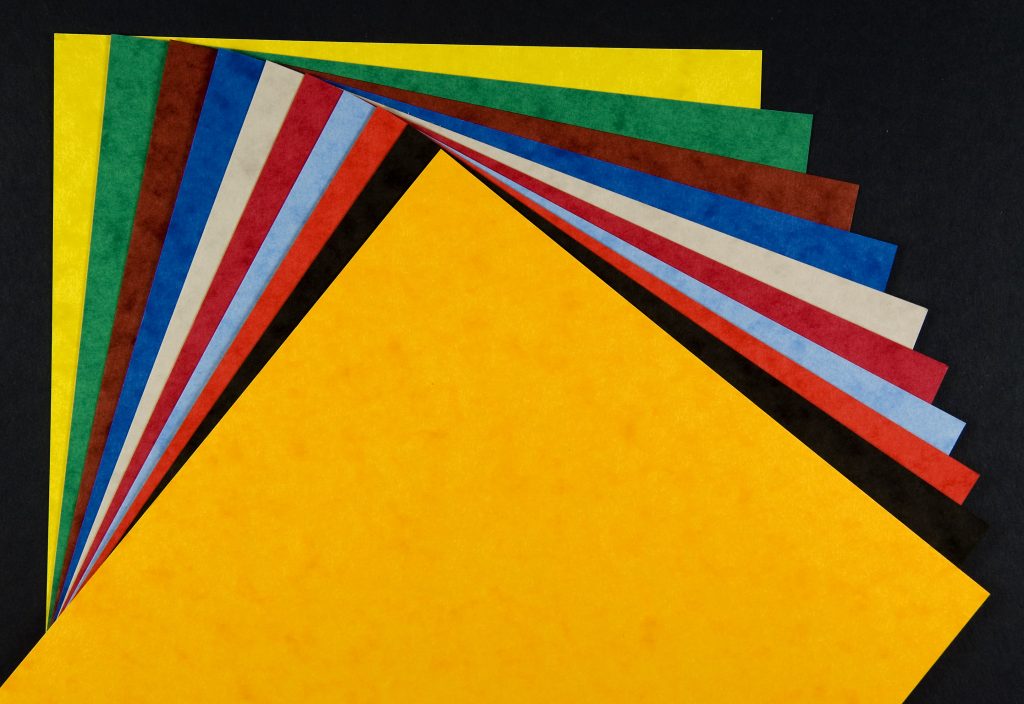 Cardstock Paper in Paper Crafting: It has been a staple for craft cutters in the modern era as it opens itself to a wide spectrum of things like folding, curving, bending, cutting, gluing, layering, and stitching. All these things are not practically possible with regular paper as it will get damaged and tear when done the same. There are different types of colors, weights, and textures available for various types of paper crafting. Though cardstock is very basic, it is capable of spinning your head with its immense possibilities.
Cardstock Paper in Card Making: Humanity has been printing cards for the past couple of centuries. But in recent times, cards have transformed from a comparatively expensive and handmade to a popular and affordable means of communication, due to great advancements in printing and mechanization. This has led to an increase in demand for cardstock paper, for invitations and craft-making purposes.
There are three main types of cardstock papers on the basis of weight:-
1. 60 lb = It is the common weight for lightweight patterned paper, heavier than printer paper, but lighter than general cardstock. This is not suitable for building a card base.
2. 80 lb = This is generally used as a business card considering it is a great weight for .creating card layers, it can even be used as a card base.
3. 120 lb = This is the perfect weight used for creating the card base due to its thick and sturdy nature and therefore a lot of layers and designs can be added to it.
Types of Cardstocks
Iridescent – It has a coating that displays a spectrum of colors that changes with the change of position of the observer.
Glossy – It appears with a shiny finish and lustrous coating which helps in providing a smooth and glossy feel and a good appearance.
Vellum – it is a fine parchment paper that is built up of the skin of a calf or lamb and its appearance ranges from mild transparent to almost opaque.
Textured – It is formed of different types of fiber which gives it a unique texture like canvas, wood, etc.
Matte – It has a lusterless or dull coating. It is best considered for photo albums as it looks like real paper and does not reflect back.
Glitter – It has a coating made up of colored glitter which can be used for decoration, paper cutting, gift tags, flowers, etc.
Uses of CardStock
A Cardstock is basically a paper that certainly is a bit flexible and easy to use for crafting. There is a vast ocean of ideas related to cardstock crafts ranging from paper crafting, card making, scrapbooking, and journaling and the possibilities are endless when it comes to ideas many ideas are available online as well from Instagram to Pinterest.
DIY tags and bookmarks: It is probably one of the easiest ways to use your cardstock and craft paper as you can design elegant bookmarks, stamp sets, and many other things from it within a very short span of time.
Handmade cards: You may use white or different colored cardstock papers for making cards. But people mostly prefer the easier way of doing the same, that is they go to a nearby shop where all varieties of cards are available and all you need to do is write your name and the recipient's name.
Mini Albums: A white cardstock must be generally preferred for this cause, and it is also a nice way to preserve your uncountable memories in a photo album and cherish them with your near and dear ones.
Scrapbook: Cardstock is considered a staple in scrapbooking. It creates some really classic looks which is the primary reason why it will never go out of fashion. On the other hand, it is easier to move to patterned papers and work with them after beginning with cardstock.
Home decor: Home always has a special place in everyone's heart. With the help of cardstock, you can easily decorate your house and beautify it with your creative ideas, as it can be used as a cheap and cost-efficient way of giving a personal touch to your beautiful house.
All About Card Stock Cutting
Coming to the topic of cutting a cardstock using a new Cricut or Silhouette machine, you are probably going to face a few problems like inappropriate cuts, torn corners, and peeling layers which can definitely affect the overall craft design you had planned. There are a lot of things to be kept in mind, but the major problem will be the quality of the paper. Before cutting your cardstock, you need to have complete knowledge about your need, which can help you in the long run. The best cardstock for cutting is less fibrous than most and does not contain a coating having a plastic base. Clean cutting can be a big challenge you may face. There are generally two big issues while cutting, one is having smooth cuts in a few areas may bring tears at the corners which are because of the fibers being too big. There may also be spots that peel apart in layers.There are two primary Cardstock cutting machines:-Cricut and Silhouette.
Best Machines for CardStock Cutting
1. Cricut: Cricut is too easy for beginners and also inexpensive. You can pretty much use all types of paper materials with appropriate and precise settings. You can easily cut your cardstock in Cricut with the help of a regular blade. There is also a double-cut feature available in Cricut where you can cut a bit thicker papers, though we don't recommend you cut papers greater than 80 lb in one go. If any issues arise while cutting the paper then try changing the blade(probably try to prefer a Cricut brand blade). Try testing with different paper qualities before you finalize your choice, you can even try having intricate cuts as well because there are a lot of variable settings available with Cricut Explore and Cricut Maker.
Cricut Explore: It offers a lot of settings including paper, fabric, light cardstock, and poster board. You can try any of them and then find out which setting suits your choice. If you are not able to find a match to your requirements then better go for the custom setting.
Cricut Maker: Here, settings appear on the screen in different boxes, you have to choose your cardstock paper type, fabric type, and a lot of other kinds of stuff from the list available in the options. For simple shapes, prefer Fast mode(available in the Make screen) to cut it faster, although not preferable for intricate cuts.
Intricate Cutting in Cricut
Intricate cutting designs generally demand a lot of attentiveness and carefulness. However, there is a specific "Cardstock Intricate cuts" option available in the "Browse materials" section of the Make screen.Try out that…
Best Blade for cricut
Fine point Blade: It is recommended for all paper projects as it cuts thin papers very smoothly and nicely.
Deep-cut Blade: This is genuinely better for thicker cardstocks which your Cricut will prompt you to use if needed.
Best Mat for Cricut
Try having the LightGrip mat for most paper and cardstock. It is well recommended on the blue mat due to its adhesive nature. For heavier cardstock, prefer the StandardGrip mat.
Troubleshooting
This is a helpful option for you if any issue arises where cutting does not happen properly with the material.Try using a lighter material and give it a test cut.Also, you can try changing the setting to Glitter Cardstock which can be cut in two phases. For Explore, set the dial to Custom and then choose Glitter Cardstock in the Make screen from "Browse all materials". For Maker and Joy, just change the option to Cardstock Glitter from the options available in the list.
Best Cardstock for Cricut cutting machines
Cardstock-related projects are the simplest thing to get you into the world of Cricut machines. The amount of creativity you can put into designing with the cardstock and transforming them into cards, tags, handicrafts, and other things is infinite. The best cardstock paper for Cricut is generally the one that has high quality, has long fibers which are tightly packed, has good color, and texture, and must also be less expensive. There is an ocean of brands of cardstock available in the market but genuinely there are very few quality products available, some of them are:
American Crafts Cardstock- It's always the first choice for craft cutters as it gives one of the best cuts and its texture is awesome. Its smooth and solid core is available in a variety of colors. It gives the best results when used in Cricut machines.
Bazzill Cardstock- It is high-quality cardstock paper that is available with a solid core and canvas texture along with a variety of colors.
Glitter Cardstock Paper- It has a different customer base in the market as people usually love to use high-quality glitter for cards and envelopes. The shimmery paper cuts easily without fraying and produces clean and well-cut lines.
Recollections Cardstock Paper- It is an affordable brand that is 65 lb in weight and easily available online having a solid core and a really smooth texture.
Cricut Brand Cardstock- It is a 60 lb weight, solid core, and textured cardstock suitable for making cards, decor, banners, and other paper crafts.
You can find them and other types of cardstocks at various online websites like Scrapbook, or Amazon.
1. Silhouette: Silhouette cutting machines can generally cut a variety of materials including paper, vinyl, cardstock, iron-on heat transfer material, fabric, and many others. Silhouette provides the Test Cut feature where you can cut off a particular material in order to check whether it cuts successfully or not. It has a lot of craft cutting machines like Cameo, Mint, and Alta. Silhouette machines will surely make you feel the personalization you needed for your design.
Cameo — This is surely one of the top models available in the market with some great features to enhance the quality of the design you desire. It also offers a Bluetooth and USB connection. It also has some high-end accessories like Kraft Blade, Punch tool, and Rotary blade.
Best blade for Silhouette
Silhouette has five blades which are made of a tungsten alloy that is extra sharp and durable and offers different features.
1. Auto blade: This is a self-adjusting blade that can cut paper and cardstock and is available only for Cameo 3. As the name suggests, here you actually do not have to do anything, the machine will give the best-recommended cut settings.
2. The deep-cut blade: This is the only blade that has a cut depth of 2mm and is considered perfect for thin craft foams, felts and some other materials. It is technically for the Curio model but can be used for Cameo as well.
3. Fabric blade: It can only cut fabric material and it is compatible with all models of Silhouette.
4. Ratchet blade: It has a cap to adjust blade settings and can also make thousands of cuts before replacing.
5. Premium blade: It has 3 times the life of a ratchet blade and it can also cut all types of paper and cardstock.
Best Mat for Silhouette
You must always prefer the Silhouette mats as they are made keeping in mind how the Silhouette cutter works. If you are looking for a good quality and long-lasting mat, thicker and more sturdy then there are a lot of options available. Each has its own characteristics based on your needs, material size, and budget. Some top quality mats are Nicapa Mats,Miss Kate cuttable Mats.
Best Cardstock for Silhouette cutting machines
Silhouette cutting machines are designed to cut different types of materials like cardstock, patterned papers, and vellum. iron-on heat transfer material, fabric, and many more. But choosing the best quality of cardstock available online is very important. It is like a make-or-break situation for the craft cutter. So, here are some good cardstock that can be preferred:
Bazzill Card shop- It cuts pretty amazing.Highly recommendable. The heavier weight actually means smaller, intricate cuts don't flop or bend inward.
Bazzill Mono- It generally does cut well. Its high-quality cardstock papers are best known for their attractive color and high-quality solid core.
American Crafts Precision Card Stock Paper- It's one side is smooth and the other side is textured. There Are a lot of options available in online web stores.
Silhouette Printable Adhesive Cardstock- It is best suitable and perfect to use in the Silhouette Craft cutting machine. Only white-colored paper is available.
Bazzill Smoothie- It is 80 lb weight cardstock having a solid core and is acid and lignin free which makes it perfect for scrapbook layouts and paper crafting.
CRICUT VS SILHOUETTE
All the discussions finally come down to this point. Which craft-cutting machine is best?? This is definitely a big and Important question for someone who is looking to explore his interest in craft cutting and designing. Cricut is definitely much better in this field, but Silhouette somehow gives a good alternative option with its different models. Both have high-end machines, the Maker and the Cameo. Here is a detailed chart that may help you choose your craft-cutting machine today….
| | CRICUT | SILHOUETTE |
| --- | --- | --- |
| Top model available | Maker 3 | Cameo 4 |
| Other good models | Joy,Explore | Mint,Alta |
| Number of blades | 13 | 5 |
| Cost | 160$ – 300$ | 190$ – 400$ |
| Size (inches) | 22.1×7.1×6.2 | 22.5×7.6×6.6 |
| Matless cutting | Yes | Yes |
| Weight | 6.9 kg | 6.2 kg |
| Attachment | 13 (optional) | 5 (optional) |
| Score | Yes | No |
| Cut size | 12″ × 24′ | 12″ × 10′ |
Frequently Asked Questions
Where to buy cardstock paper from?
Cardstock paper is generally available in the majority of arts and crafts stores near your locality. Coming to online resources, for white cardstock, prefer Neenah Paper, and for colored, go for Altenew. Some other reputable and trusted companies sell their products on Amazon and Walmart as well which are also recommendable.
Why should we use cardstock paper?
Cardstock paper is generally used for making paper crafts, scrapbooks, bookmarks, and other DIY crafts, basically, it is a lifeline for craft cutters.
What is the general weight of a cardstock?
It is generally heavier and thicker than regular paper. They generally range from 65 lb to 80 lb which is best recommended for normal day-to-day uses for craft cutters.
What is the difference between printing paper and cardstock?
Cardstock is thicker and more durable than normal printing paper, but thinner and more flexible than cardboard. This is one of the reasons it is considered as one of the good quality and better handling than other choices available.
What is the best weight of cardstock for normal usage?
80 lb card stock is the most common weight of cardstock to be used for DIY invitations, card making, craft cutting, scrapbooking, postcards, business cards, and other similar usages.
We have tried to give a complete guide about Cardstock and its cutting process, Cricut, and silhouette machines and also recommended the best possible ways of doing the same. Hope this article finds you well. Thank you and have a nice day…