From encouraging messages to sassy quips, there are so many ways to make your kitchen fun and inviting with these Kitchen free Cutting Board Quotes & Sayings SVG files as the kitchen is the heart of the home – it's where we prepare delicious meals and share quality time with our family and friends. And what better way to liven up a kitchen than with some funny chopping board quotes? For more ideas see all quotes and sayings.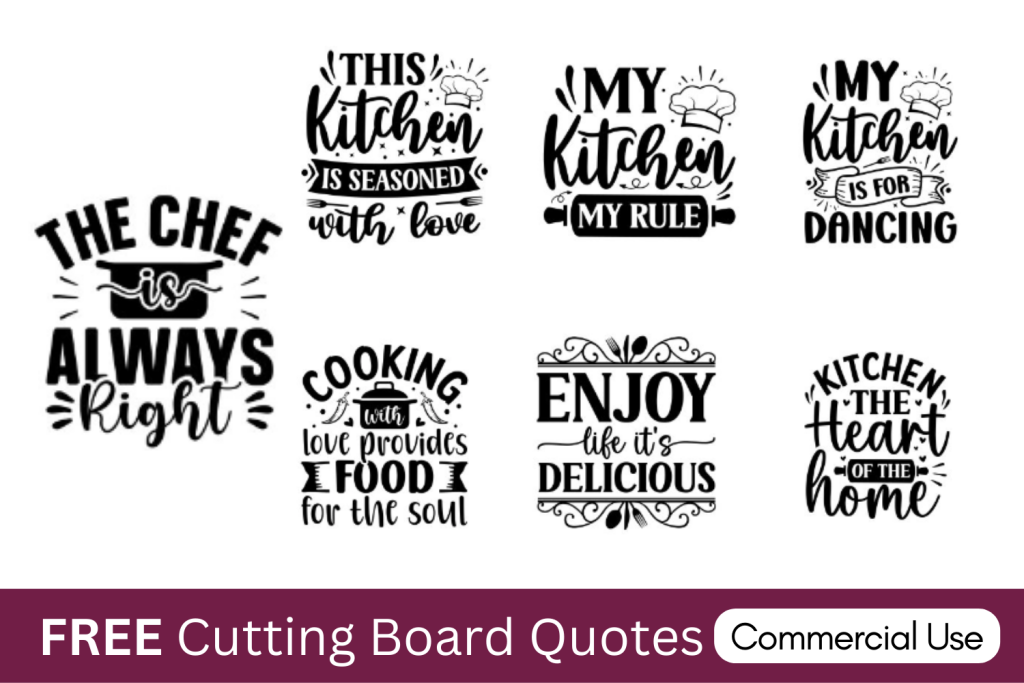 Use these printable short, funny, Cutting Board quotes, SVG files, quotes, and Cricut designs to create custom shirts, cups, holiday wall art, wall paintings, wall decorations, and other festive decorations.
Cutting Board Quotes & Sayings(Free Cricut SVG Designs & Cliparts)
Quotes and Sayings (SVG files, Clip art, and Cricut Designs)
These SVG designs and patterns can be used by you for a wide range of materials. By using these designs you can create perdonalized customized decor for your home, sell your own creations online, or show off your crafting skills at a craft fair etc. These short, funny printable quotes and sayings, cricut SVG files can be used for coloring pages and coloring sheets, crochet patterns, crafts, Cricut designs, cups, cutting files, drawing and painting, embroidery, hobbies, holiday crafts, iron-on designs, kid crafts, laser cutting, needlecrafts, preschool printables, quilting, sewing, scrapbooking, sign making, screen printing, shirts, sweaters, t-shirts, tumblers, vinyl cutting, wall art, wall decor, wall decorations, wall paintings, weddings, woodworking projects, and other DIY projects. These designs, patterns, templates, stencils, clipart, and svg cut files work with all sorts of cutting machines, including Cricut, Silhouette, Brother, and more.
These designs and patterns can be used by you to cut out on cardboard, cardstock, canvas, construction paper, fabric, felt, foam, leather, notebook paper, paper, parchment paper, photo paper, plastic, poster board, vinyl, wax paper, wrapping paper, wood, and many other types of materials.
See more related short, funny quotes and sayings. Download for FREE and use it for personal and commercial use.
These cutting board quotes and sayings can serve several important purposes in the kitchen. They can provide inspiration, promote hygiene and cleanliness, add a personal touch, remind people of food waste reduction, and be a conversation starter.