What is Sublimation?
Sublimation, also called Dye Sublimation Printing is a digital printing technology that is directly printed in the product using full colors. This is a comparatively newer technology in which unlimited colors can be used with the help of special printers, unlike screen printing which requires different screens for each color. The print has more vibrancy than most standard printers and color fading is minimal, but synthetic fabrics must be preferred. The best feature here is that the design is not printed on the top of the cloth, but permanently dyed into the cloth which ensures permanent print and zero chances of fade. This process is economically better as well because the unit cost is similar for fewer or more requirements. It is one of the easiest methods of decorating apparel and blanks, customized T-shirts, mugs, coasters, and much more. One thing to note is that you can sublimate only on light-colored materials, mostly white. So, let us know the best-selling sublimation products
Sublimation blanks are specially manufactured products designed to customize or personalize with images or graphics. Blank items are heat resistant because the print image gets transferred from the paper onto the substrate under high temperature and pressure. If the design is not heat resistant, then it is likely to melt. Also, blank products are mostly white or light colored, because it does not include white inks, to get a bright, attractive, and permanent print.
A blank, also referred to as a substrate in sublimation printing, is a general name for an item that you can customize using sublimation prints with sublimation ink or Cricut Infusible Ink. Sublimation blanks are different from regular blanks you can use them with vinyl or iron them on with heat transfer vinyl. For Sublimation, the most basic thing needed is the blanks. A lot of the retailers online can offer really competitive pricing on quality products, particularly if you buy in bulk. We are giving the links to the sites and suppliers available online that offer quality products for your sublimation printing projects, like Amazon, Heat press nation, Coastal business, Cricut website, JOANN, Michaels, and many more.
Best Selling Sublimation Products
Sublimation Printing is cost-effective, fast and easy to perform, reliable and in demand compared to other forms of printing. Here, we will give you a list of best-selling products that can be best recommended for the process of Sublimation.
1. Sublimation Mugs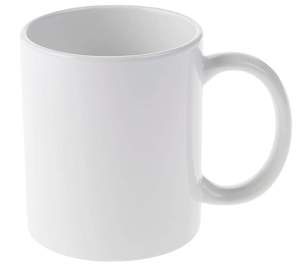 The most popular product recommended among sellers and customers for this process is the Sublimation Mugs. A mug is a great way to start your business from home, office, or factory. It is a great product that generally lasts longer and it can be used for a larger extent of time. You just have to have a printout of the design and apply them(by the process of heat transfer) to the Sublimation ready mugs. In just a few steps, these ceramic mugs can easily be decorated using a sublimation printer and a mug press. It is also affordable and the perfect item for personal use, birthday, or selling items for shops. Custom-designed products are always in demand among people for themselves for their loved ones and custom mugs have been their first choice. You can sublimate mugs that are made up of ceramic coating on their surface. White mugs can be considered blank mugs as it provides you with the freedom of customization. Porcelain mugs are also good as it has a glazed and smooth coating as a ceramic.
Equipment Required — Mug Press Holder
Temperature needed — 400°F
Time required for press — 3 to 5 Minutes
Cost — 25$ to 30$
Blank Mugs Supplier — Bestsub , Coastal Business , USCutter
2. Photo Blocks
Photo blocks can be used as a special gift from one family to another, for remembering some great, lovely, and heart teaching memory. There is a sudden rise in the demand for the classic photo block, as well as the modern rounded style. You can also make corporate gifts and paperweights, just put your corporate message on them and it will be a daily reminder for your business message to your employers. Whether you need a personalized gallery of your own photos to beautify your wall or gift to your near and dear ones. They are basically made up of ceramic that gives a bright white glossy finish.
Equipment Required — Heating Pad
Temperature needed — 400°F
Time required for press — 4 to 5 minutes.
Cost — 10$ to 100$.
Photo tile sellers — Coastal Business, Subliblanks.
3. T-Shirt
It really doesn't matter if you are a beginner or an experienced guy in the industry, you can never go wrong in making the best possible Customized shirt. Though made of polyester, it feels like cotton and makes you feel cool, comfortable, and protected from harmful UV rays. The versatility of this T-shirt is what hates it unique and popular. A standard heat press is needed for customizing these T-shirts. They have been the most popular favorites among customers in the domain of custom apparel fashion. Sublimation allows for best-quality graphic printing on shirts with various colors. Tightly knitted polyester fabrics are cheap and best as they can withstand heat, and the polymer bonds easily with ink material.60% polyester and 40% cotton can be best for printing as they can withstand heat. If a 100% cotton T-Shirt is used, the ink won't embed into the fabric and will remain on the surface. Consequently, the ink will fade, crack and wash off with time. A good quality print on apparel can last as much as 10 years. White or light-colored T-Shirts are best so it doesn't require ink. Thus, black or dark-colored apparel isn't suitable for a good print.
Temperature needed — 400°F
Time required for press — Approximately 1 min
Cost — 12$ to 15$ (Excluding shipping charges)
Blank T-Shirt Distributor — RoyalApparel , Bestblanks , Bella+Canvas
4. Metal Prints
The vibrancy and image detail reproduced on a metal print are incomparable. The most common finish sold is a gloss with a white base, also there are better options available like textured, semi-gloss, and matte finishes, and some have a clear base. The cost is variable depending on the size and type of image, and the same goes for the profit range. Usually, it is available from a range of 15$ to 70$. Sublimation printing is applicable to various metal accessories like keyrings, aluminum bottles, fridge magnets, and more. Firstly, clean the metal surface and ensure it is dust and dirt free. Then place the metal plate onto the transfer paper with the designed graphics. Fold the paper along opposite sides of the metal plate and fix it with heat-resistant tape. To obtain a quality image, ensure proper alignment. Now you are ready to go for the press machine and cover it with a protective cover. Always make sure you have an eye on the time, temperature and pressure. After the time is over, lift the arm of the press and then remove the sheet to not disturb the transfer paper. Then remove the heat-resistant tapes and lift the paper from a corner. You are ready to go!!!
Temperature — 374°F (under medium pressure)
Time to press — Around 1 minute.
Cost — 15$ to 30$,may even go up to 70$
Blank metals supplier — JPplus, Sepsgraphics
5. Phone Cases
This is one of the most favorite products in today's generation. Majority of the people having a phone prefer to have some sort of cover or a hard shell case which usually protects phones from accidental drops and keeps them in great condition. Phone cases are a great marketing option for big corporate brands because it's a great cost-efficient and easy way for their publicity. Also, it is pretty simple to give them a modern and stylish look. There are close to 4 Billion smartphone users around the world, which is also increasing rapidly. People use phones every day and cases add a layer of protection to them. Personalizing phone cases are rising in popularity in the market. Mobile cases come in various sizes and materials such as metal. plastic, and silicone. With the process of Sublimation, you can print iPhones, or any other phone covers by pressing unique patterns, custom designs, and high-quality photos. Custom phone cases are not only popular but also highly profitable items for print shops and product decorators. All you need is a computer, printer, transfer paper, blank phone case, parchment paper, and heat press. A blank phone case comes with a sticky back and aluminum insert, which takes on the print. First, take a printout of the images on the transfer paper from your computer. Place the aluminum insert to line up with the image on the printed paper and use a bit of heat-resistant tape. After this, bring it to the heat press, which is layered with parchment paper and a couple of sheets of towels to even the pressure. Place the transfer face up with the substrate face down. Put the other sheet on top. Now place the arm of the device and sublimate under specified conditions. After an appropriate time, slowly release the press. Then, let it cool. Now, you can remove the little piece of paper covering the adhesive on the backside of the blank phone case. Then, line up the aluminum insert with the case to stick hard.
Temperature — 400°F
Time of press — 45 sec to 1 min.
Cost — 20$ to 22$
Top Phone Case Blank Suppliers — Innosub USA, Subliblanks
6. Face Mask
Facemask has become a compulsory item after the pandemic among people of all ages. Thus, it can be considered as a scope for a huge market due to the constant demand for the product. Sublimated masks are completely safe for regular use. It does not release any toxic chemicals as the ink is strongly embedded on the outer surface of the facemask without affecting the inner surface. To sublimate the facemask, you need a blank substrate. The facemask should be completely white. You will also need a lint roller, scissors, Teflon sheets, and transfer paper. Of course, you must have the entire printing setup, a sublimation printer, and a heat press. The first thing to do is to take the printout of the design on paper. Before starting the printing, use a lint roller to remove any excess fibers from the facemask. Do the rolling on both sides. Then place the facemask on the top of the sheet and just pre-press for a quick five seconds to remove any crease: wrinkles or excess moisture on the substrate. Once you have pre-pressed the mask, use scissors to trim down the paper to align it with the print area of the facemask perfectly. Then you need to carefully align and place the facemask down onto the transfer and secure its position using heat-resistant tape. Next, make sure you have a Teflon sheet on the base of the pressing machine and an additional protective paper over it. Then place the facemask into the heat press so that the printed transfer is at the top. Now Lower the upper arm of the heat press for the recommended time, temperature and pressure. After the time elapses, remove the printed transfer over the mask. Finally, the mask has got a cool look and is ready to wear.
Temperature — 400°F (Medium pressure)
Time for the press — 1 minute
Cost of a facemask — Around 20$.
Blank face mask sellers — Jpplus , Heattransferwarehouse
7. Trophies
Custom trophies and awards are always a hot deal in the market. Trophies are always made to honor the winners of various events, shows, and games. Traditionally, trophies are made by the process of engraving, which is not a simple and cost-effective process. A lot of machinery and skills are needed for engraving. But, Sublimation printing is a simple and affordable alternative for the same, too easy for people to print colored images onto a surface. The process of printing is too easy. Firstly, print the selected images onto the transfer paper. Before placing the trophy plate onto the printed transfer paper, clean the surface to remove dust and dirt. Ensure that the trophy plate perfectly aligns with the image on the transfer paper. Fold the transfer paper onto the sides of the trophy plate and fix it with heat-resistant tape to prevent displacement. Next, place the sponge foam on the lower plate and the protective paper on top of it. Now you can place the item over the setup and cover it with a parchment sheet. Apply the heat press for the recommended time, temperature, and pressure. After about 3 minutes, rotate it at 90 degrees and press for another minute. After two minutes, release the heat press machine and move the trophy aside and allow it to cool down for approximately 20 minutes. After the trophy plate cools down, immerse it in water and remove the sublimation paper. The printing is done!
Temperature — 400°F (Light pressure)
Time for press — 3 + 1 minutes
Cost — 15$ to 200$. (The final printing cost depends upon the type of product, its dimension, and Printing cost)
Blank Trophy sellers — Trophykits, Trophycentral, Bestblanks.
8. Glass Items
Sublimation Printing on glass materials like drinkware, glass photo frame, round glass clock, beer mugs, etc.Glass is a brittle material that can break easily, so you need to be careful while using a heat press for dye sublimation printing. There are some special heating machines for objects with round or cylindrical surfaces. Flatbed Heat press machines are not suitable for round surfaces. It is too easy to craft cylindrical glass items. Firstly, get the images printed on the transfer paper. Then take your product and ensure that its surface is clean and dust free. Then wrap the printed transfer around the product while ensuring that it's aligned correctly and secure its position using heat-resistant tape to prevent misplacement during heat press. Next, place it centrally into the heat press and press with heavy pressure. After a certain time, remove it from the heat press. Remove it extremely carefully(due to the high temperature) in a continuous motion. After it is cooled, the custom-printed glass is ready.
Temperature — 400°F
Time — 4 minutes with heavy pressure
Cost — Around 20$(excluding printing and packaging costs)
Top Glass Suppliers — RPL Suppliers, Coastal Business
9. Backpacks
Backpacks are best for students, professionals, and common people as well. They are comfortable and easy to carry items and are preferred by corporates, and businessmen, and are used by youngsters as well. Blank backpacks have a white fabric font, also called a detachable blank flap. If the blank flap does not detach, you can fold it during heat press. Materials required are transfer paper with printed images, a sticky lint roller, a Teflon sheet, and protective paper for backpacks. The first step is to pre-press the white printable area. Place a sheet of protective paper on the bottom plate. Then place the blank flap carefully, otherwise, the remaining areas may melt due to heat press. Use the lint roller to remove fibers and smoothen the surface. Then grab a protective paper on the top for 20 seconds. After that, lift the press and remove the protective sheet and one more time apply the lint roller to smoothen the surface. Next, you can place the printed transfer paper and align it for perfect placement(Use heat-resistant tape to prevent displacement). Then place a Teflon sheet on top covering the entire area, and apply the heat press for the recommended temperature, pressure, and time. After the simulated time, lift and swing away from the press. Remove the setup and finally lift the transfer paper. The printing is done and your product is ready to go.
Temperature — 400°F (light to medium pressure)
Time for the press — Around 1 minute.
Cost — 100$ to 200$ (final price)
Top Blank Backpacks — Backpacks USA , Dollardays
10. Tote Bags
Polyester Canvas Tote Bags are ideal for promotional events, trade shows, giveaways, and school and college work, and also a great alternative to single-use plastic bags. These are sturdy and can be customized with various print methods like sublimation, embroidery, screen printing, and heat transfer. For sublimation printing, you need 100% polyester tote bags. Also, the bags should be white in color for applying all types of print colors. Place the tote bag onto the heat press and ensure that the handles are outside the press area as they may get crushed while pressing the upper arm. Use a lint roller to remove the extra fibers that remain on the surface of the tote bag. If the bag's surface is wrinkled or creased, press the upper arm of the heat press machine for three to four seconds to smoothen the surface. Place the printed transfer paper with graphics, its face down onto the surface of the tote bag while ensuring minor adjustments for proper alignment. Now fix its position using heat-resistant tape. Cover the entire product with a parchment sheet or protective paper over the top of the product to protect it from direct heat. Then press the upper arm of the heat press. After the time has elapsed, lift the upper arm and remove the protective paper while being careful the transfer paper is not removed. And then remove the paper starting from any one of the corners in an upward motion. The printing process is completed.
Time for the press — 1 minute.
Temperature — 394°F under firm pressure.
Cost — Around 25$
Blank Tote bags sellers — Totebagfactory, Steps Graphics, Dyetrans.
11. Mouse Mats
Most workplaces have one thing in common, and that is Computers. So, at your office desk or home setups, there must be a mouse mat and maybe sometime you would have thought of customizing it, in that case, you should definitely go for it. People these days give out mats having their personal photos and companies these days as well like to give customized mouse mats to their employees for branding purposes. The best part about these mouse mats is that they are affordable to produce and thus offer the highest profit margins. They reflect your personality and make up your mood in your workspace. You can add a company logo, pictures, family portraits, or anything you would love to see on these mousepads. The possibilities are endless! Anyone's home or work desk can be a little more personal with a custom sublimation mouse mat which is available in different shapes and sizes, these mouse pads can be personalized to match any personality or style. Attach the sublimation transfer onto a blank mouse pad with adhesive spray. Place it on your heat-press in between two sheets of parchment paper. You will want the mouse pad & transfer on your heat press's lower plate with the paper side up. Press the mouse pad at recommended conditions. When it's done, wait a few moments and then peel away the transfer to reveal your amazing custom mouse mat.
Time for the press — 40 seconds.
Temperature — 400°F under medium pressure.
Cost — Around 20$
Blank Mouse Mat sellers — yourlogomousepads, fdt rubber
12. Coasters
Dye Sublimation Coasters are a little bit unusual item to have. Coasters are a good comparison with mugs as they provide a cheaper option and ultimately fulfill the same purpose. Every time you have a cuppa, you can use a sublimated coaster with your details on it. This is a great way to showcase your business details anywhere, be it your staff room, living room, or your workspace desk. Package them with twine or ribbon with names, monograms, phrases, or photos on them. Generally, these items are sold for an average price of 20$-25$. Coasters are available in two ways,i.e.Round Ceramic and square coasters. Round Ceramic needs to be heated for 240-300 seconds at a temperature of 400F under medium pressure. Heating needs to be done upside down through the back of the coaster. The Cricut Square Coaster needs to be heated for 30 seconds at a temperature of 400F under medium pressure. If heated too long, the paper will stick to coaster.
Time for the press — 30 seconds to 5 minutes.
Temperature — 400°F under medium pressure.
Cost — Around 15$ to 20$
Blank Coaster sellers — coaster factory, faire.
13. Sublimation Hats
Hats have a moisture-wicking sweatband and mesh vents to keep you cool and comfortable. There is an adjustable strap available by which one size fits all types of hats. It is best considered for indoor and outdoor use, these hats have a moisture-wicking sweatband and mesh vents to keep you cool and comfortable. Hats are also one of the most sublimated products which are preferred by a big majority of retailers, wholesalers, and consumers. It is one of the mass-produced materials present in the market.
Time for the press — 1:30 to 2 minutes.
Temperature — 360-390°F under medium pressure.
Cost — Around 25$ to 30$
Blank Sublimation hat sellers — cap wholesalers , blackcaps
Custom Bag Tags are a great way to add personality and brand identity to a functional product. A lot of designs and tags are helpful in identifying your luggage, instruments, backpacks, and more. The selling price ranges from 7$ to 25$ and can be sold both as retail units and wholesale. The majority of you must have seen bag tags at an airport during the checking of your luggage. Not Just that, there are many other places where tags are available.
Time for the press — 1 minute.
Temperature — 385°F under strong pressure.
Cost — Around 15$
Blank bag tags sellers — providence label, mysafetag.
Time for the press — 40 to 55 seconds.
Temperature — 400°F under medium pressure.
Cost — Around 10$ to 15$
Blank Pet tags sellers — id tag, blank dog tag.
Other Products for Sublimation Printing are Keychains, Ornaments, Towels, Cardboard, Water bottles, etc.
Conclusion
From the above-given information, it can be concluded that sublimation is a popular and affordable way to enter the custom designing industry. All you need to take care of is having the right equipment, supplies, and blanks for your business. You need a very low capital to start this business and there is an endless limit to the profit you can make. Sublimation gets rid of most of the drawbacks of screen printing. The ink is essentially made a part of the fabric, so your design will last as long as the garment. The other advantage of dye sublimation printing is the freedom it provides.
Frequently Asked Questions
How to avoid sheen on polyester?
You can avoid sheen on polyester by lowering the temperature of the heat press. Keep the pressure light to keep the paper flat against the substrate and can also get a pillow or pad to elevate the print area to avoid seams.
Can you sublimate black fabric with silver color?
No, you cannot sublimate black fabric with silver, yellow, pink, or green colors as it won't show up. Sublimation ink is opaque and can only dye if it is darker than the fabric. The fabric must be lighter than the colors to at least show up.
Can you sublimate labels?
Yes, you can sublimate labels even with smaller text. However, well-known companies opt for screen-printed canvas-type labels as it looks better, more durable, and are textured.
What is the recommended time and temperature to sublimate plastic?
The recommended temperature for a heat press is 190 degrees Fahrenheit for 60 seconds under light pressure.
Can you sublimate dark objects?
No, you cannot sublimate on dark objects because sublimation ink is transparent. Sublimation printing works best on white or light-colored objects.
Does sublimation ink have white? Which is the best sublimation ink?
No, sublimation ink does not have white color. It comes in CMYK colors only. The best sublimation is actually water-based and compatible with the printing equipment.