These free editable Bible verses about WORRY, cricut designs, SVG files, and clip art are for crafters and DIY projects. Worry is a common struggle that can consume our thoughts, steal our peace, and hinder our ability to trust in God's provision and care. Thankfully, the Bible offers us wisdom and encouragement to overcome worry and find lasting peace in God. Just select any quotes & sayings design and start editing using the editor tool. For more ideas see bible verse designs or all quotes and sayings
TIPS:
Follow the step by step
help tutorial
on how to edit the design using the tool effectively.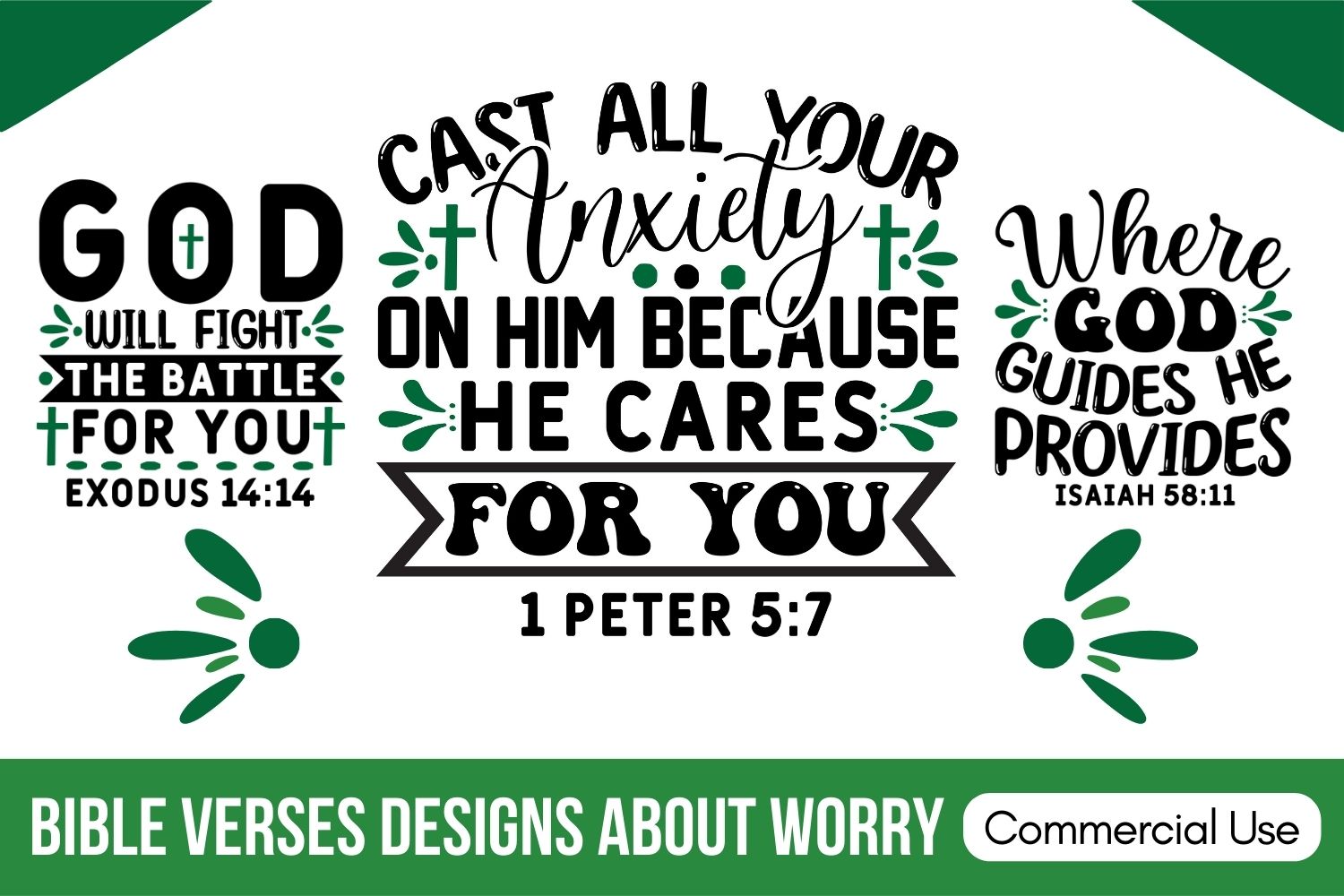 Bible Verses about WORRY
Find the best bible verses about Worry in this free printable quotes collection of SVG designs.
Find More Bible Quote Designs (SVG Files and Scripture Verses)
Come across some more powerful scripture quotes that have been converted into SVG designs on faith, forgiveness, love, praying, healing, hope, inspiration, strength, salvation, worry, and trusting god.
SUGGEST US
We are constantly working on enhancing by adding new features. If you experience any issues or you have any suggestions for us with this editor tool, feel free to contact us at info@vectordad.com.
Please share with us any features that you would like us to add to the tool.
DESIGN, DOWNLOAD & SELL
These SVG designs and patterns can be used by you for a wide range of materials. By using these designs you can create personalized customized decor for your home, sell your own creations online, or show off your crafting skills at a craft fair etc. These short, funny printable quotes and sayings, cricut SVG files can be used for coloring pages and coloring sheets, crochet patterns, crafts, Cricut designs, cups, cutting files, drawing and painting, embroidery, hobbies, holiday crafts, iron-on designs, kid crafts, laser cutting, needlecrafts, preschool printables, quilting, sewing, scrapbooking, sign making, screen printing, shirts, sweaters, t-shirts, tumblers, vinyl cutting, wall art, wall decor, wall decorations, wall paintings, weddings, woodworking projects, and other DIY projects. These designs, patterns, templates, stencils, clipart, and svg cut files work with all sorts of cutting machines, including Cricut, Silhouette, Brother, and more.
You can use these designs and patterns to cut out on cardboard, cardstock, canvas, construction paper, fabric, felt, foam, leather, notebook paper, paper, parchment paper, photo paper, plastic, poster board, vinyl, wax paper, wrapping paper, wood, and many other types of materials.
The file can be opened on various professional software like Adobe Illustrator, CorelDRAW, Adobe Photoshop, Inkscape, Sketch, Affinity Designer, Gravit Designer, Sketchbook, Cricut Design Space, Silhouette Studio, Powerpoint, etc.
Sell these designs as downloables on various marketplaces like Etsy, Design Bundles, Creative Market, GraphicRiver, Sofontsy, Design Cuts, Society6, Redbubble, Gumroad, 99designs, ArtStation, Shutterstock, Adobe Stock and more. Make thousands of dollars selling on these platforms. You can also make Print-On-Demand products such as T-Shirts and Mugs and sell them on other marketplaces like Redbubble, Spreadshirt, Printify, Printful, Zazzle, Spring etc.
Pin It Here
STEP BY STEP HELP TUTORIAL
It's super easy and fun to edit and make your own quotes in no time. Follow the steps below.
1. Select design:
Select any design.
2. Edit/download:
Click the edit or download button to open the editor tool.
3. Change Color:
Choose your favorite colors (e.g., red, orange, yellow, green, blue, purple, pink, brown, gray or grey, black, white, beige, turquoise, gold, silver, lavender, indigo, magenta, maroon, olive, teal, navy, peach, cream, crimson, fuchsia, chartreuse, coral, khaki, mauve, rust, salmon, tan, violet, burgundy, chocolate, slate, taupe, eggplant, or forest green) from the color picker to change the color of the text and see the changes in the stage.
4. Enter the Pixel:
Next, enter the pixel size of the downloaded image to maximum upto 6000.
5. Download the final output:
Download the final output as a high-quality PNG image or JPG image or PDF or vector SVG file format for your next great project.
Worry can weigh us down and hinder our ability to experience God's peace and provision. However, the Bible provides us with powerful verses that guide us in overcoming worry and finding lasting peace in God. By trusting in His care, surrendering our concerns in prayer, and casting our burdens upon Him, we can experience freedom from anxiety and rest in His unfailing love. May these Bible verses about worry inspire us to replace worry with trust, finding solace in God's faithfulness and embracing a life of peace.