Free printable collections of cricut svg templates designs of Bible verses about SALVATION. Salvation is the central theme of the Christian faith, representing the deliverance and redemption offered through Jesus Christ. The Bible provides us with a profound understanding of God's plan for salvation and the eternal hope it offers to all who believe. Let's explore some Bible verses about salvation that illuminate this incredible gift, its significance, and how we can receive it. For more ideas see bible verse designs or all quotes and sayings.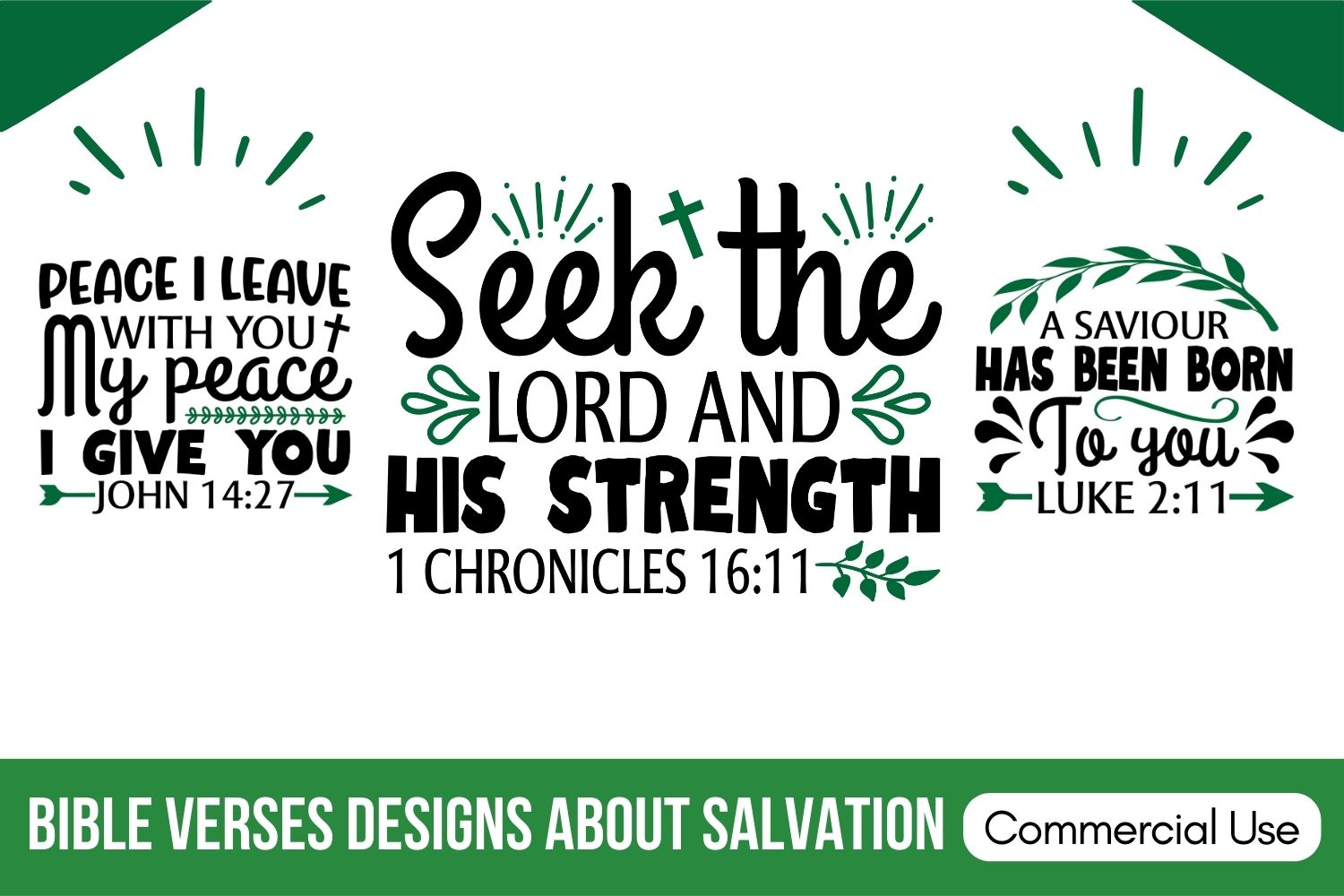 Bible Verses about SALVATION
Find the best bible verses about Salvation in this free printable quotes collection of SVG designs.
Find More Bible Quote Designs (SVG Files and Scripture Verses)
Come across with some more powerful scripture quotes that have been converted into SVG designs on faith, forgiveness, love, praying, healing, hope, inspiration, strength, salvation, worry, and trusting God.
Pin It Here

Quotes and Sayings (SVG files, Clip art, and Cricut Designs)
These SVG designs and patterns can be used by you for a wide range of materials. By using these designs you can create perdonalized customized decor for your home, sell your own creations online, or show off your crafting skills at a craft fair etc. These short, funny printable quotes and sayings, cricut SVG files can be used for coloring pages and coloring sheets, crochet patterns, crafts, Cricut designs, cups, cutting files, drawing and painting, embroidery, hobbies, holiday crafts, iron-on designs, kid crafts, laser cutting, needlecrafts, preschool printables, quilting, sewing, scrapbooking, sign making, screen printing, shirts, sweaters, t-shirts, tumblers, vinyl cutting, wall art, wall decor, wall decorations, wall paintings, weddings, woodworking projects, and other DIY projects. These designs, patterns, templates, stencils, clipart, and svg cut files work with all sorts of cutting machines, including Cricut, Silhouette, Brother, and more.
These designs and patterns can be used by you to cut out on cardboard, cardstock, canvas, construction paper, fabric, felt, foam, leather, notebook paper, paper, parchment paper, photo paper, plastic, poster board, vinyl, wax paper, wrapping paper, wood, and many other types of materials.
See more related short, funny quotes and sayings. Download for FREE and use it for personal and commercial use.
Salvation is the ultimate expression of God's love, mercy, and grace. The Bible verses we explored unveil the profound truth that salvation is a gift freely given through faith in Jesus Christ. It cannot be obtained through our own efforts or the works we do. By acknowledging Jesus as Lord, believing in His resurrection, and trusting in His sacrifice, we receive the gift of salvation and eternal life. May these Bible verses about salvation inspire us to embrace this incredible gift, live in the assurance of God's grace, and share the good news of salvation with others.