Free printable sign templates are an excellent way to create and customize professional-looking signs for your home, office, or business. With a wide range of templates available for download in PDF format, you can easily find the perfect sign for your needs, whether it's a caution signs, no smoking signs, recycle signs, first aid signs, reserved signs, and many more.
Caution signs are used to alert people of potential hazards, such as wet floors or construction areas. No smoking signs are used to remind people that smoking is prohibited in a certain area, while recycle signs encourage people to recycle their waste. First aid signs are used to indicate where first aid supplies can be found in case of an emergency, while reserved signs indicate that a particular area or item is reserved for a specific person or group.
Out of order signs are used to indicate that a particular item or area is not in service or needs repair. These types of signs are often used in public restrooms to indicate that a toilet or sink is out of order. Other popular sign templates include directional signs, parking signs, and safety signs.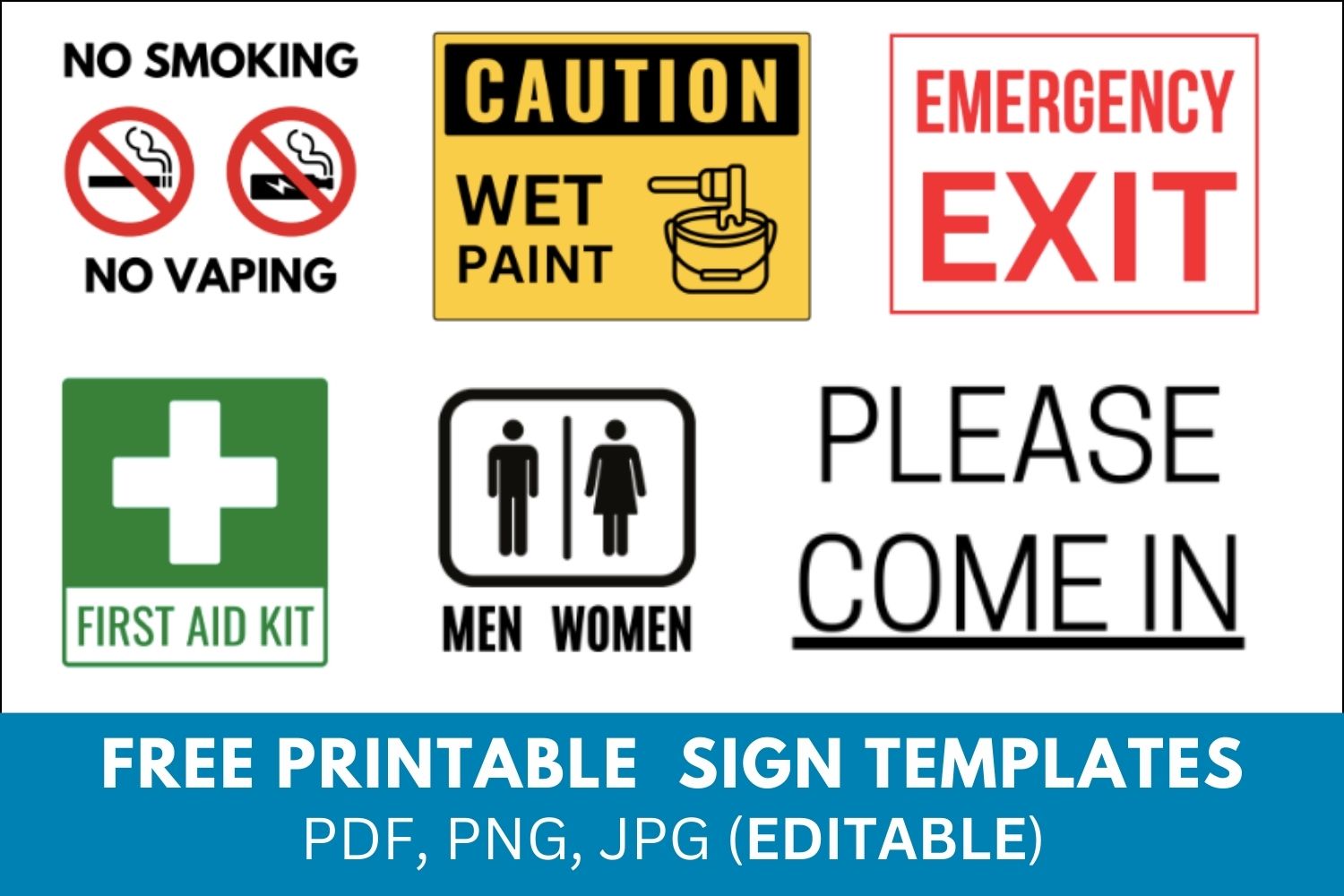 Explore other printable sign templates and designs in various categories as listed below. Download and use it for personal and commercial use.
Uses and Types of Materials
These patterns, stencils, templates, models, and shapes can be incredibly helpful guides when creating other objects or transferring designs. You have the freedom to create personalized, custom projects for your home, craft shows, or even for selling online. The possibilities are truly endless; these designs are fantastic for coloring pages, crochet patterns, drawing and painting, svg files for cricut and silhouette, svg cut files, hobbies, holiday crafts, iron-on designs, kid crafts, laser cutting, needlecrafts, preschool printables, quilting, sewing, scrapbooking, sign making, string art (nail art), wall art, wedding crafts, woodworking projects, and other DIY arts and crafts.
To make things even easier, you can transfer these printable patterns onto a wide variety of materials, such as cardboard, cardstock, canvas, construction paper, fabric, felt, foam, glass, leather, metal, notebook paper, paper, parchment paper, photo paper, plastic, plexiglass, poster board, rubber, steel, vinyl, wax paper, wrapping paper, wood, and many others. Let your creativity flow and enjoy exploring all the possibilities!