Free Breast cancer quotes and sayings are words of encouragement, hope, and inspiration for those who are facing or have faced breast cancer. They are often used to uplift and motivate individuals during their battle with breast cancer and to remind them that they are not alone in their struggle. These quotes and sayings may come from survivors, medical professionals, family members, or friends of those affected by breast cancer. They can serve as a source of comfort and strength, reminding us that we are all in this fight together.
Breast cancer is one of the most common types of cancer affecting women, and early detection is key to successful treatment and recovery. Breast cancer awareness campaigns are usually done with the aim to educate people about the signs and symptoms of breast cancer, the importance of regular screenings, and the resources available for those who have been diagnosed. The month of October is recognized as Breast Cancer Awareness Month, and many organizations and individuals participate in fundraising events and other activities to support breast cancer research and advocacy efforts.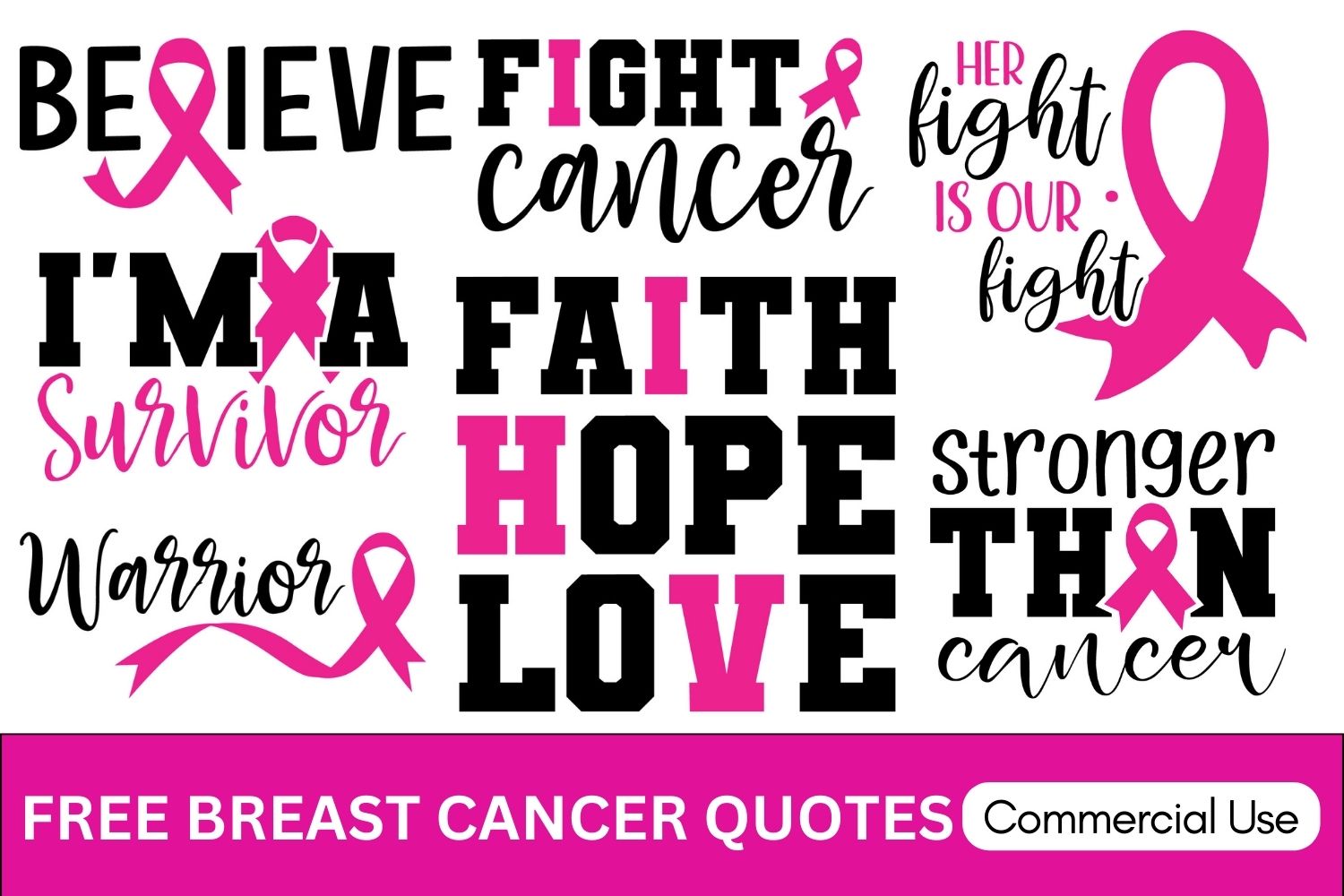 Free Breast Cancer quotes & sayings (Cricut designs, SVG files, and clip art for crafters and DIY projects) can be used to show different designs which can be simple yet attractive, such as stickers, posters clothing, home decor, stationery and many more. Breast cancer SVGs may include images related to breast cancer awareness, such as pink ribbons, slogans, and symbols. They can be used for a variety of purposes, including creating awareness materials, designing merchandise, and creating social media graphics.
Breast Cancer Quotes & Sayings (Free Cricut SVG Designs & Templates)
Quotes and Sayings (SVG files, Clip art, and Cricut Designs)
These SVG designs and patterns can be used by you for a wide range of materials. By using these designs you can create perdonalized customized decor for your home, sell your own creations online, or show off your crafting skills at a craft fair etc. These short, funny printable quotes and sayings, cricut SVG files can be used for coloring pages and coloring sheets, crochet patterns, crafts, Cricut designs, cups, cutting files, drawing and painting, embroidery, hobbies, holiday crafts, iron-on designs, kid crafts, laser cutting, needlecrafts, preschool printables, quilting, sewing, scrapbooking, sign making, screen printing, shirts, sweaters, t-shirts, tumblers, vinyl cutting, wall art, wall decor, wall decorations, wall paintings, weddings, woodworking projects, and other DIY projects. These designs, patterns, templates, stencils, clipart, and svg cut files work with all sorts of cutting machines, including Cricut, Silhouette, Brother, and more.
These designs and patterns can be used by you to cut out on cardboard, cardstock, canvas, construction paper, fabric, felt, foam, leather, notebook paper, paper, parchment paper, photo paper, plastic, poster board, vinyl, wax paper, wrapping paper, wood, and many other types of materials.
See more related short, funny quotes and sayings. Download for FREE and use it for personal and commercial use.
Breast cancer SVG designs can feature a combination of inspiring quotes, uplifting messages, and breast cancer awareness symbols such as the pink ribbon. The designs can be customized with different fonts, colors, and graphics to suit individual preferences. These designs can also be used to raise awareness and promote fundraising efforts for breast cancer research and treatment. They can be shared on social media, websites, and other digital platforms to reach a wider audience and encourage support for the cause. Overall, breast cancer quotes and sayings turned into SVG designs can serve as a powerful tool for spreading awareness, promoting hope, and inspiring those affected by breast cancer to stay strong and keep fighting.