Teacher quotes and sayings refers to designs related to teaching and education. These designs can include images of educational tools, school supplies, and various phrases or expressions related to teaching and learning. The designs may include inspiring quotes, humorous sayings, or clever wordplay that resonate with educators and students alike. These designs help to reinforce the educational theme of the design and create a cohesive visual element.
Teacher quotes and sayings SVG designs are meant to inspire and motivate educators and students alike. These designs may feature uplifting messages about the power of education and the importance of lifelong learning. These designs may feature heartfelt messages of gratitude and recognition for the important role that teachers play in shaping young minds. Some teacher quotes and sayings SVG designs take a more lighthearted approach, using humor and wit to make a point. These designs may feature clever puns, funny quips, or humorous observations about the joys and challenges of teaching.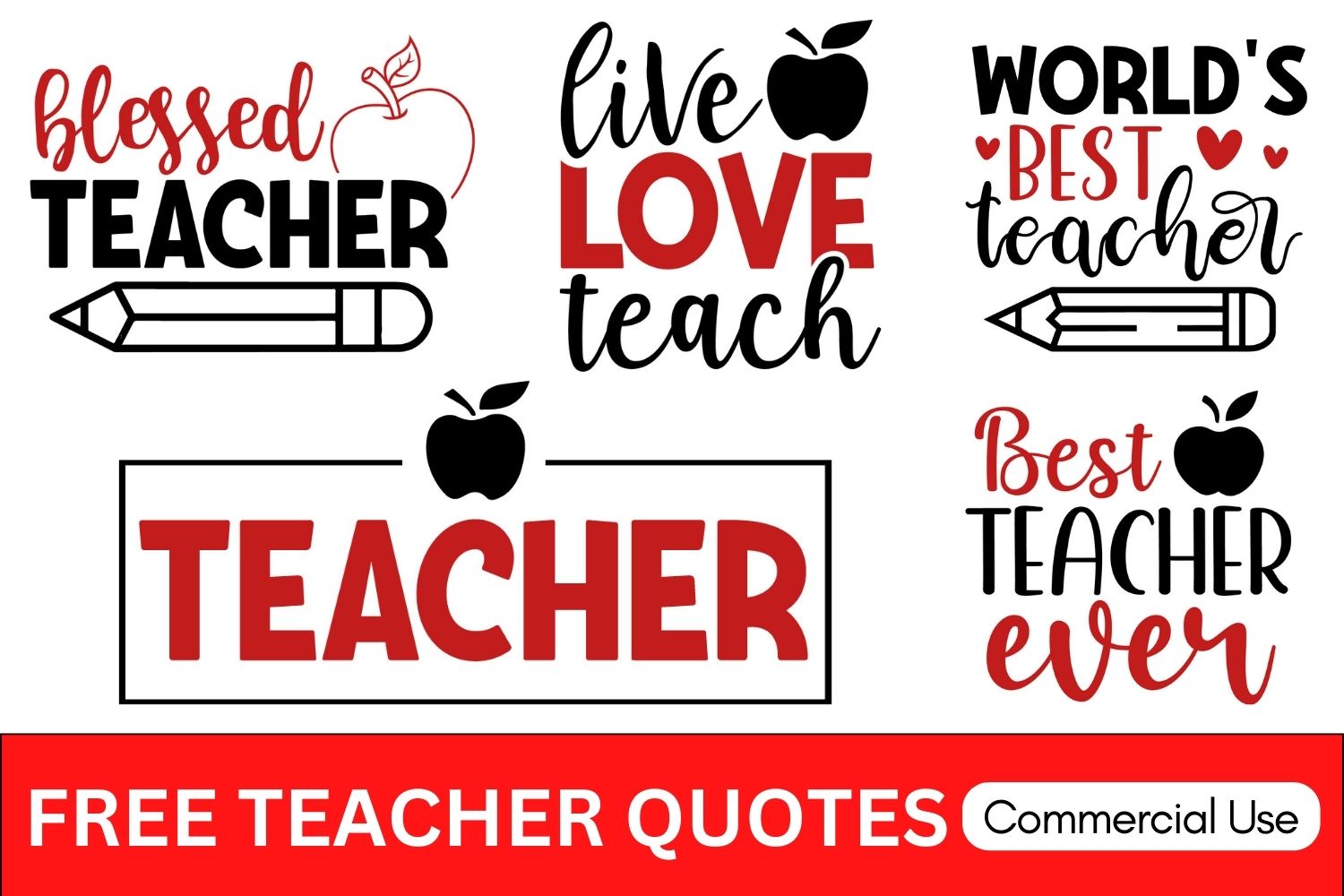 Free Teacher quotes & sayings are popular among educators, parents, and students alike, as they can be used to create a wide range of personalized educational items, adding a touch of creativity and personalization to classrooms and home learning environments. These designs can be downloaded and used with cutting machines, such as Silhouette or Cricut, to cut out designs in various materials like vinyl, paper, and fabric.
Teacher Quotes & Sayings (Free Cricut SVG Designs & Cliparts)
Quotes and Sayings (SVG files, Clip art, and Cricut Designs)
These SVG designs and patterns can be used by you for a wide range of materials. By using these designs you can create perdonalized customized decor for your home, sell your own creations online, or show off your crafting skills at a craft fair etc. These short, funny printable quotes and sayings, cricut SVG files can be used for coloring pages and coloring sheets, crochet patterns, crafts, Cricut designs, cups, cutting files, drawing and painting, embroidery, hobbies, holiday crafts, iron-on designs, kid crafts, laser cutting, needlecrafts, preschool printables, quilting, sewing, scrapbooking, sign making, screen printing, shirts, sweaters, t-shirts, tumblers, vinyl cutting, wall art, wall decor, wall decorations, wall paintings, weddings, woodworking projects, and other DIY projects. These designs, patterns, templates, stencils, clipart, and svg cut files work with all sorts of cutting machines, including Cricut, Silhouette, Brother, and more.
These designs and patterns can be used by you to cut out on cardboard, cardstock, canvas, construction paper, fabric, felt, foam, leather, notebook paper, paper, parchment paper, photo paper, plastic, poster board, vinyl, wax paper, wrapping paper, wood, and many other types of materials.
See more related short, funny quotes and sayings. Download for FREE and use it for personal and commercial use.