Free collection of Weed quotes & sayings (Cricut designs, SVG files, and clip art for crafters and DIY projects). Weed quotes and sayings are statements or phrases that express ideas, emotions, and experiences related to marijuana or cannabis. These quotes and sayings may reflect different perspectives and attitudes towards marijuana use, including its medicinal and recreational benefits, cultural and social implications, and legal status. Weed quotes and sayings are often shared on social media, used in marijuana-themed merchandise, and incorporated into pop culture references.For more ideas see quotes and sayings.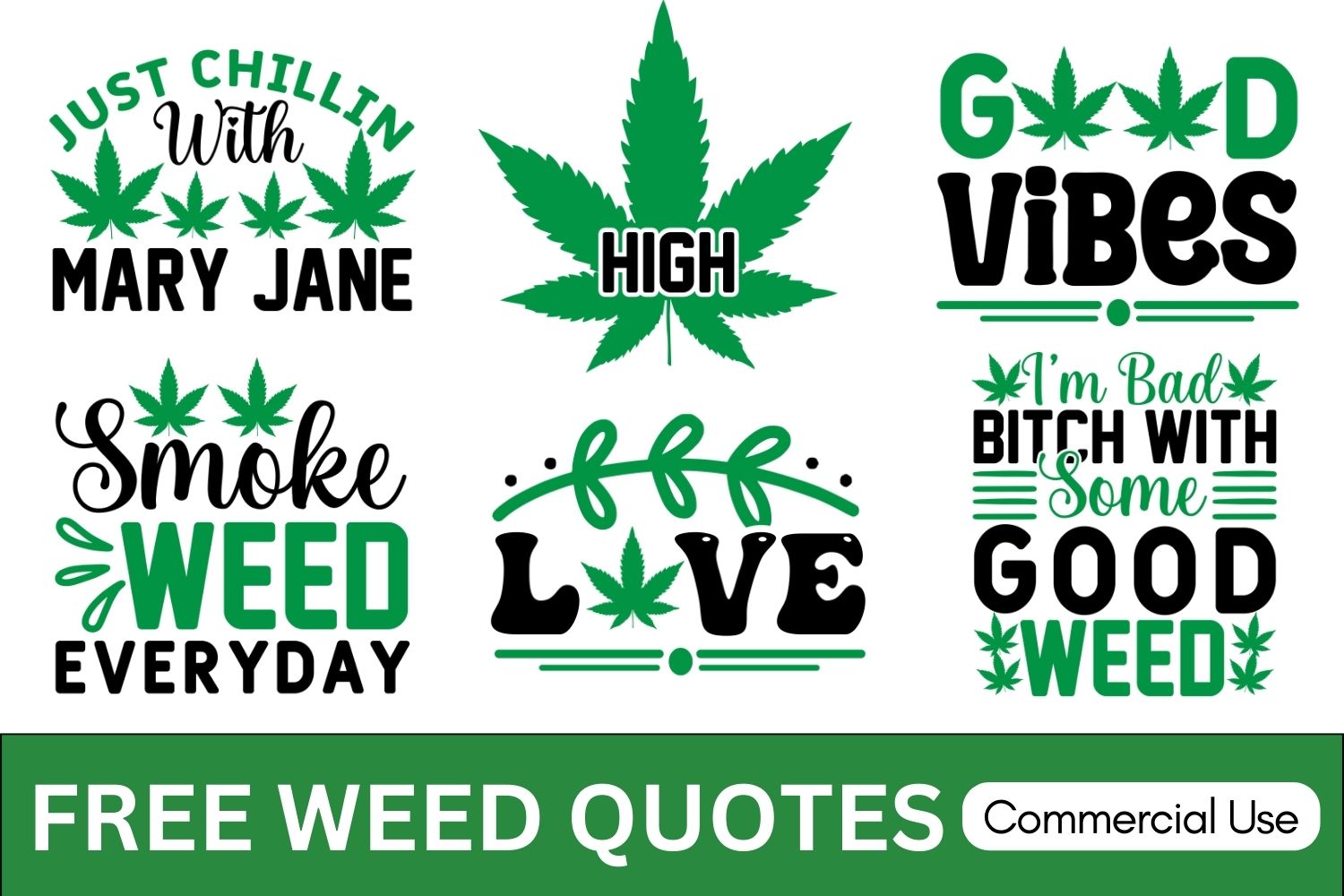 Weed quotes and sayings can provide insight, humor, and cultural commentary on the use of marijuana, as well as the legal and social implications of its use. They can express a range of emotions, including joy, relaxation, creativity, and contemplation, and can offer advice on how to responsibly and safely use marijuana. These quotes and sayings can provide insight into the ways in which people view and use marijuana, and can also be a source of humor and entertainment.
Weed Quotes & Sayings
Quotes and Sayings (SVG files, Clip art, and Cricut Designs)
These SVG designs and patterns can be used by you for a wide range of materials. By using these designs you can create perdonalized customized decor for your home, sell your own creations online, or show off your crafting skills at a craft fair etc. These short, funny printable quotes and sayings, cricut SVG files can be used for coloring pages and coloring sheets, crochet patterns, crafts, Cricut designs, cups, cutting files, drawing and painting, embroidery, hobbies, holiday crafts, iron-on designs, kid crafts, laser cutting, needlecrafts, preschool printables, quilting, sewing, scrapbooking, sign making, screen printing, shirts, sweaters, t-shirts, tumblers, vinyl cutting, wall art, wall decor, wall decorations, wall paintings, weddings, woodworking projects, and other DIY projects. These designs, patterns, templates, stencils, clipart, and svg cut files work with all sorts of cutting machines, including Cricut, Silhouette, Brother, and more.
These designs and patterns can be used by you to cut out on cardboard, cardstock, canvas, construction paper, fabric, felt, foam, leather, notebook paper, paper, parchment paper, photo paper, plastic, poster board, vinyl, wax paper, wrapping paper, wood, and many other types of materials.
See more related short, funny quotes and sayings. Download for FREE and use it for personal and commercial use.
Weed cricut SVG templates can be used with a variety of cutting machines, such as Cricut and Silhouette, to create intricate and detailed designs on a wide range of materials. Whether you're a crafter, DIY enthusiast, or small business owner, Weed SVG designs can be a useful and valuable tool for creating unique and personalized designs.