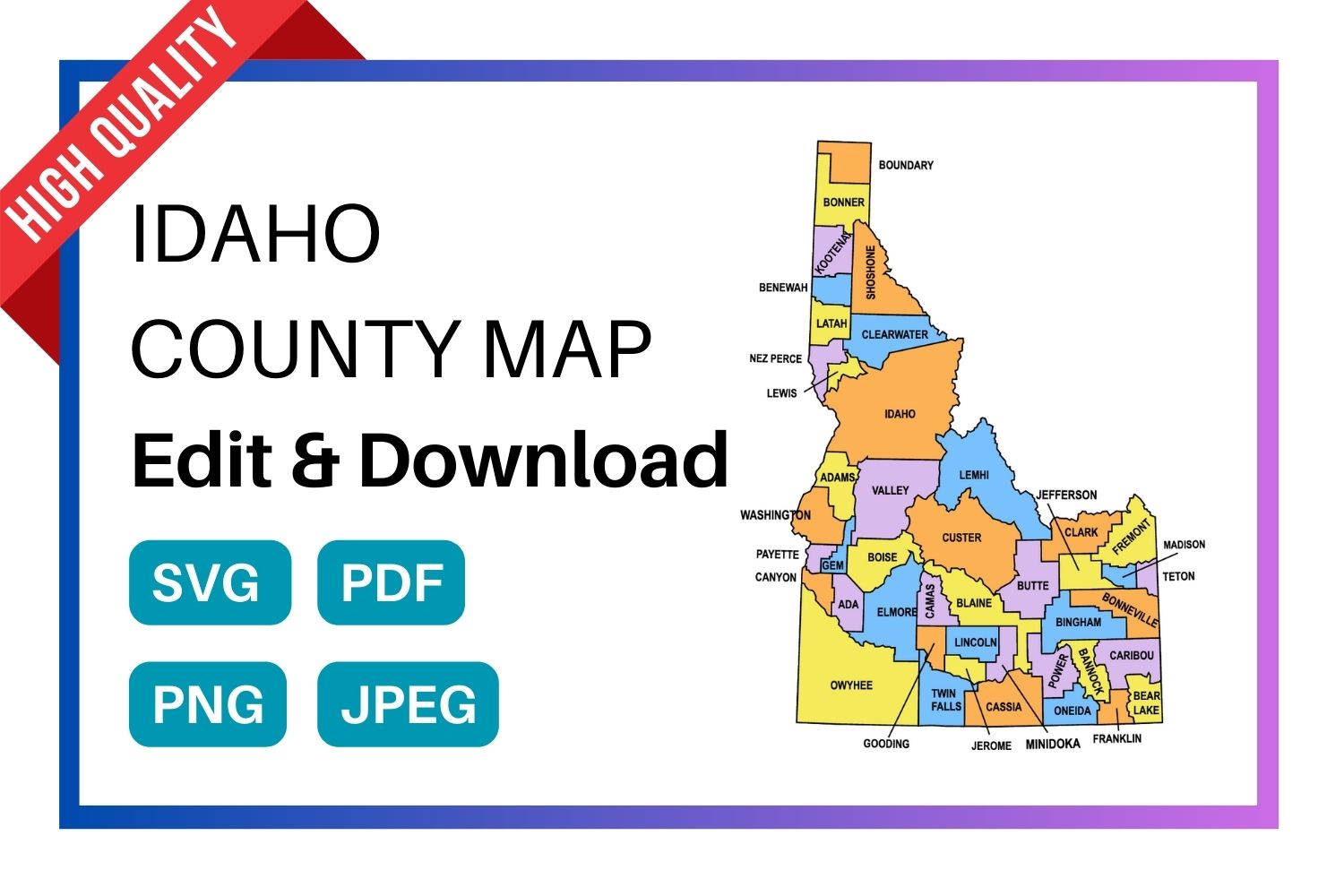 Below are the FREE editable and printable Idaho county map with seat cities. These printable maps are hard to find on Google. They come with all county labels (without county seats), are simple, and are easy to print. This Idaho county map is an essential resource for anyone seeking to explore and gather more information about the counties of the state.
TIPS:
Follow the step by step
help tutorial
on how to edit and download the county map effectively.
Listed below are the different types of Idaho county map. Click on the "Edit Download" button to begin.
1. Idaho County Map (Multi-colored)
---
2. Printable Idaho County Map Outline with labels
---
3. Idaho Colored Blank County Map
---
4. Idaho County Outline Map
Psst! You might also like some of these other patterns of US maps.
SUGGEST US
We are constantly working on the enhancment by adding various new templates. If you experience any issues or you have any suggestions for us with this editor tool, feel free to contact us at info@vectordad.com.
The templates includes Idaho multi colored county map, Idaho county map outline with labels, Idaho colored blank county map, and Idaho county outline map with border. Please share with us any templates that you would like us to add to the gallery.
Idaho county map, whether editable or printable, are valuable tools for understanding the geography and distribution of counties within the state. Printable maps with county names are popular among educators, researchers, travelers, and individuals who need a physical map for reference or display. They can be used in classrooms for teaching geography, in offices for planning and analysis, or as wall maps for decoration.With their customizable and printable features, The maps of Idaho counties provide flexibility and convenience for users to use maps with county area boundaries that meet their specific needs. Whether used for educational, professional, or personal purposes.
---
List of 44 Idaho counties with seat cities
Ada County – Boise
Adams County – Council
Bannock County – Pocatello
Bear Lake County – Paris
Benewah County – St. Maries
Bingham County – Blackfoot
Blaine County – Hailey
Boise County – Idaho City
Bonner County – Sandpoint
Bonneville County – Idaho Falls
Boundary County – Bonners Ferry
Butte County – Arco
Camas County – Fairfield
Canyon County – Caldwell
Caribou County – Soda Springs
Cassia County – Burley
Clark County – Dubois
Clearwater County – Orofino
Custer County – Challis
Elmore County – Mountain Home
Franklin County – Preston
Fremont County – St. Anthony
Gem County – Emmett
Gooding County – Gooding
Idaho County – Grangeville
Jefferson County – Rigby
Jerome County – Jerome
Kootenai County – Coeur d'Alene
Latah County – Moscow
Lemhi County – Salmon
Lewis County – Nezperce
Lincoln County – Shoshone
Madison County – Rexburg
Minidoka County – Rupert
Nez Perce County – Lewiston
Oneida County – Malad City
Owyhee County – Murphy
Payette County – Payette
Power County – American Falls
Shoshone County – Wallace
Teton County – Driggs
Twin Falls County – Twin Falls
Valley County – Cascade
Washington County – Weiser
---
State County Maps (Printable State Maps with County Lines)
Uses and Types of Materials
You can utilize these patterns, stencils, templates, models, and shapes for creating other unique objects or sublimation. With these designs you can create your own craft personalized, custom projects for your home, or even for selling online or at craft shows. These versatile designs are perfect for coloring pages and sheets, crochet patterns, drawing and painting, SVG files for Cricut and Silhouette machines, hobbies, holiday crafts, iron-on designs, kid crafts, laser cutting, needlecrafts, preschool printables, quilting, sewing, scrapbooking, sign making, string art (nail art), wall art, wedding crafts, woodworking projects, and other delightful DIY arts and crafts. Now create and make something truly special with these wonderful design resources!
These printable patterns can be easily transferred onto an array of materials, such as cardboard, cardstock, canvas, construction paper, fabric, felt, foam, glass, leather, metal, notebook paper, paper, parchment paper, photo paper, plastic, plexiglass, poster board, rubber, steel, vinyl, wax paper, wrapping paper, wood, and so many other types of materials. Experiment with different mediums and let your imagination soar as you create stunning projects that reflect your unique style and vision.
Did you know: Idaho is known as the "Gem State", this nickname is attributed to the state's abundance of natural resources, including various gemstones. Idaho is home to a diverse range of precious and semi-precious gemstones, such as star garnets, opals, jasper, and jade.
STEP BY STEP HELP TUTORIAL
It's super easy and fun to edit and download county map in no time. Choose the shape templates, click the edit/download button and follow the steps below.
1. Change color:
Change the map color from the color picker (e.g., red, orange, yellow, green, blue, purple, pink, brown, gray or grey, black, white, beige, turquoise, gold, silver, lavender, indigo, magenta, maroon, olive, teal, navy, peach, cream, crimson, fuchsia, chartreuse, coral, khaki, mauve, rust, salmon, tan, violet, burgundy, chocolate, slate, taupe, eggplant, or forest green) to switch between different colors. The color change directly reflects the stage.
2. Enter the Pixel:
Next, enter the pixel size of the downloaded image to maximum upto 6000.
3. Download the final output:
Apply the above changes and download the final output as a high-quality PNG image or JPG image or PDF or vector SVG file format for your next great project.