Let's talk about some birth announcement signs and SVGs. We will give you a complete guide to making cute projects for your baby's, a special personalized gift for a friend, or sell as a sign or memory to your customers. There are no rules about announcing your baby to the world. You can decide to announce your new bundle of joy on social media before they're even home from the hospital, wait weeks or even months before sharing any details online, or skip the social announcement altogether. How you share your growing family with the world is up to you. But if those plans include announcing it publicly or sharing it with your near and dear ones, then here are some birth announcement signs that are sure to light up your friends and family's feeds. You can also take a look through our Baby Announcement collection and discover our amazing, easy to use digital design products. The best part about our birth announcement signs is that they are very basic to use. All you need to do is just edit the name, date and time of birth, and many other customized details. It's all as you wish. Let us now design beautiful birth announcement signs with a few clicks. Select the design of your choice and update the graphics and text within the design by directly editing using the right-hand side edit panel.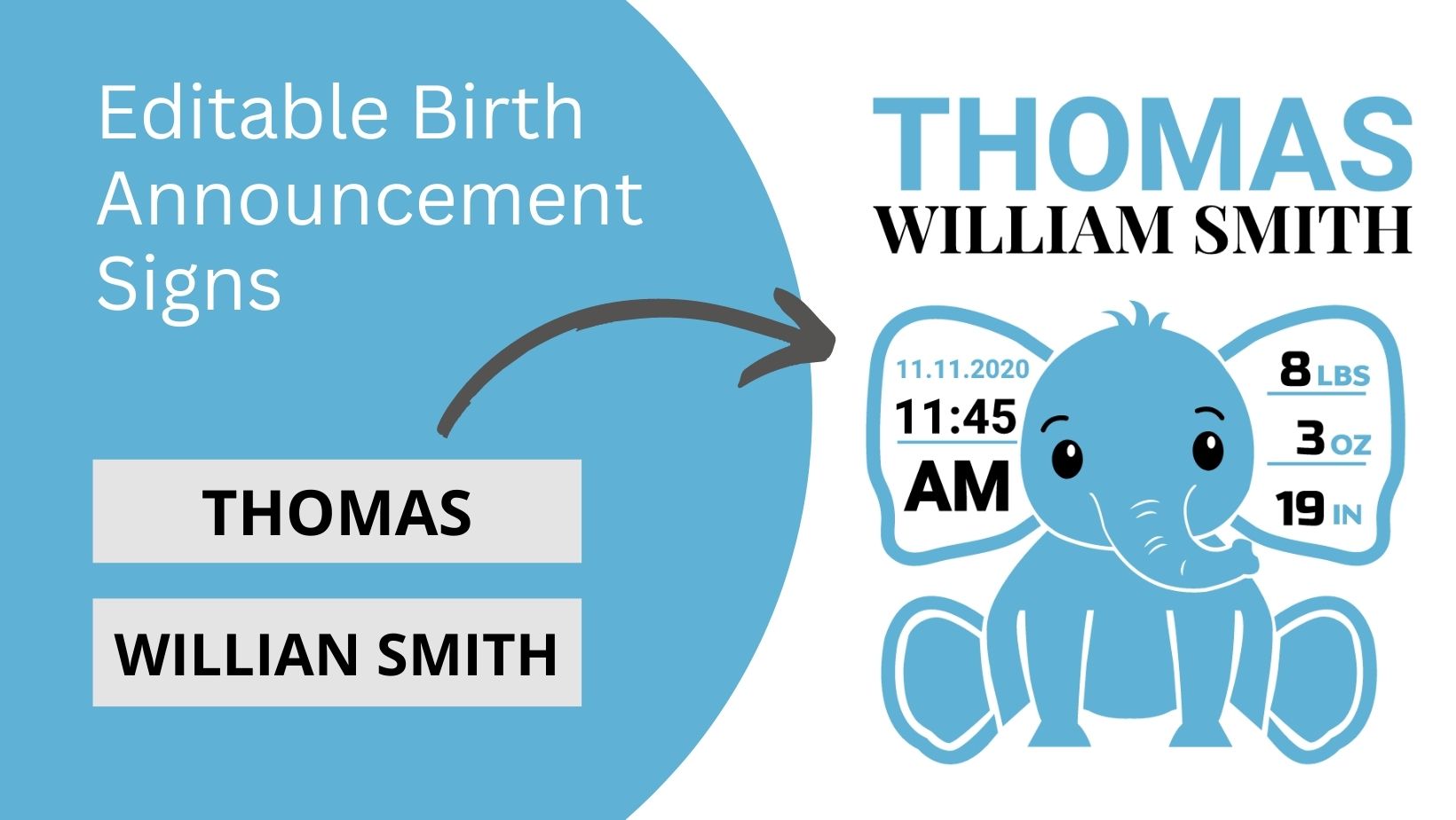 Customizable Birth Stat Designs
Birth announcement signs are used to create custom crafts, and canvas prints for the newborn. Customize your own birth stat sign vector design just by filling in your baby's birth information. The SVG file is cut ready for Cricut, Silhouette, Brother ScanNCut, or other SVG-compatible cutting machines.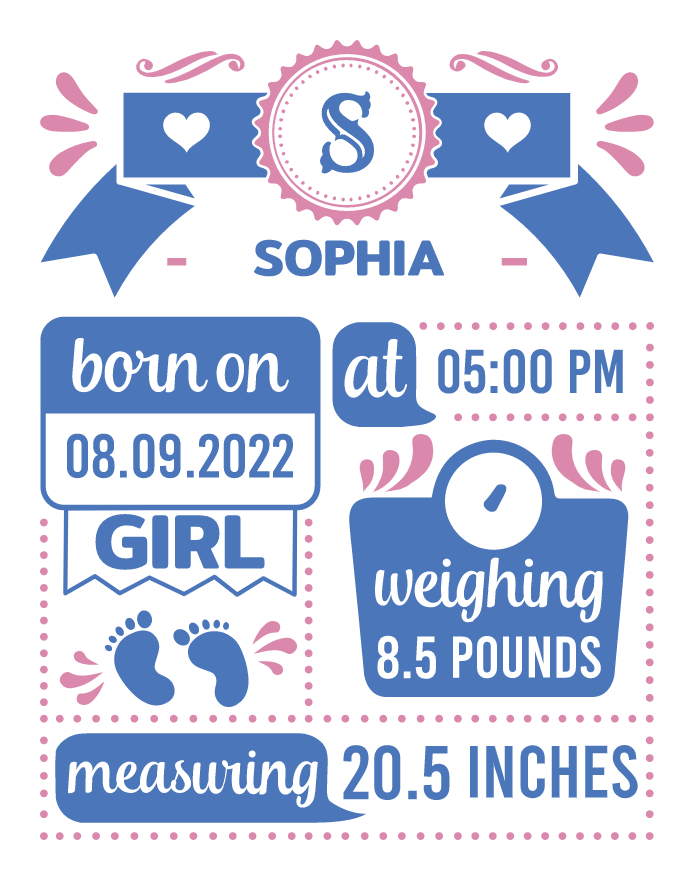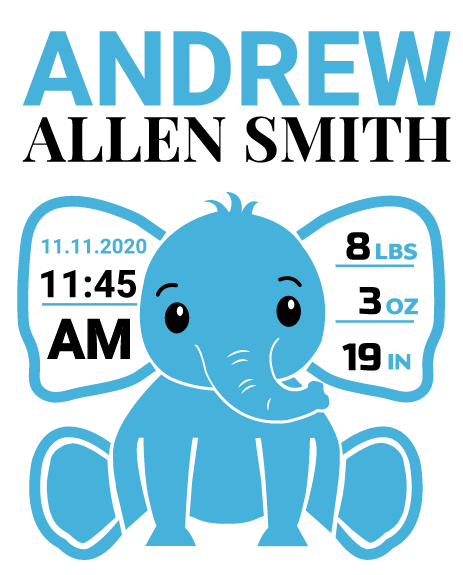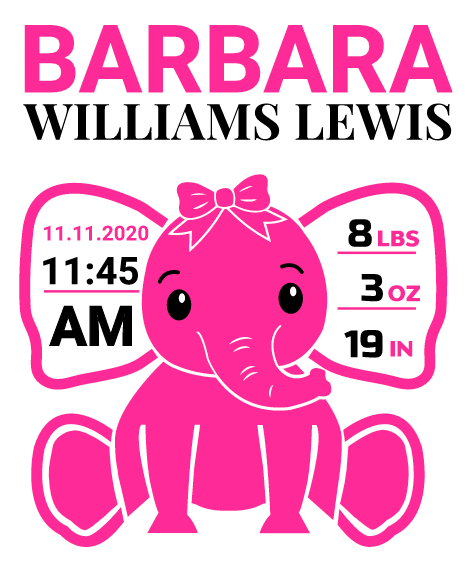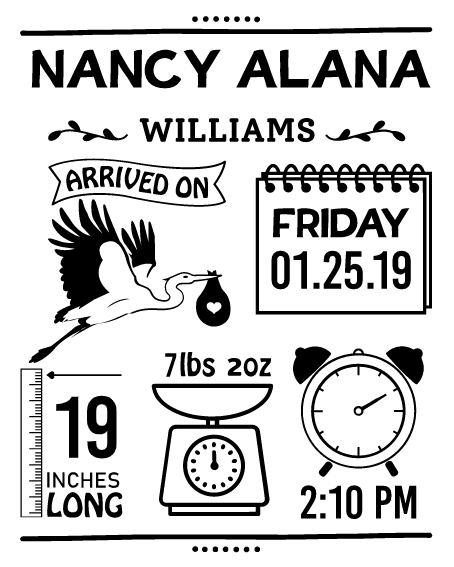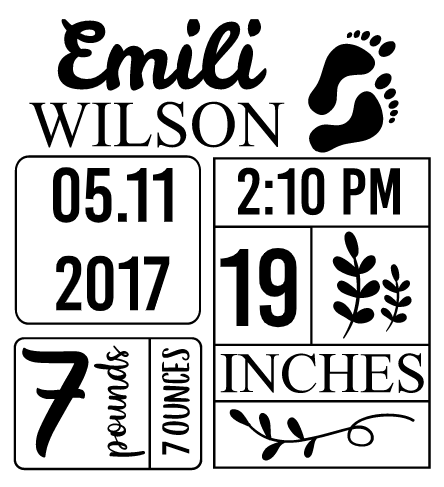 This online application can be used to create home wall decor, wedding gifts, wedding signs, bridal shower presents, and anniversary gifts.These are great for wall art, for cutting machines (Cricut and Silhouette), for stencils, for painting and coloring, for sewing and quilting, for wood working projects and patterns, and other DIY arts and crafts. Your new design or pattern can be printed or downloaded in PNG, JPG, or SVG (Scalable Vector Graphics) format.
How to make a birth announcement sign?
How you add the birth details will depend on what kind of information you want to put into the design. Some embroidery machines will allow you to edit the design directly in the machine and add letting on the screen. However, if your machine does not allow you to do this, you will most likely require embroidery software to customize the design. This can be done to an existing design such as the birth templates or you can create your own words on their own that are not incorporated into an existing design.
To get some great quality birth announcement signs you can check our website. Go to Birth announcement signs in VectorDad Check the available designs and then choose the one you want to use for your occasion. Then, Click on "Edit Design" and give all the details to get your expected birth announcement sign. Many new parents choose to include basic information about their newborn in their birth announcement. These details may include the baby's name, birthday, weight, length, location and time of birth, parent's names, and sex. You can get a quick view of your customized design on the screen, and if needed you can edit and change any information. After this, you can click on the "download" button and you are ready with your desired design. That's it. Isn't it easy? Then go, get your very own personalized birth announcement design and cherish this lovely moment of your life.
Hopefully by now all your questions have been answered. We loved helping you celebrate your life's special occasion with your Baby's birth announcements and also providing some great birthday signs. These cute templates allow you to create lovely birth announcements. You'll be amazed how easily you can turn frames and paper into beautiful baby metrics. We rounded up some of the best birth announcement wording options to introduce your little one to the world. Pick the opening lines, add the basic info above and-voila-you have your very own baby announcement card.
Conclusion
A birth announcement is a notice traditionally sent to friends and family by the parents of a baby within the first year of the baby's birth for the primary purpose of alerting friends and family to the birth of the baby. There is a new love in your life. At every glance, you would be loving to watch your baby with a thousand hearts. Enjoy and cherish these moments with your family, friends, and relatives by inviting them by sharing the delightful announcement of the newest member of your family with the help of the baby announcement signs available at Vector Dad. We offer our best wishes to you, for a wonderful gift, so precious and sweet. Thank you and have a great day ahead.
Frequently Asked Questions
What should be included in a birth announcement?
Parents usually choose to include basic information about their newborn in their birth announcement. These details may include the baby's name, birthday, weight and length, location and time of birth, parents' names, and sex.
When should you send a birth announcement and how should you describe it?
It completely depends on you. You've just welcomed a new baby into your home, so your close ones will understand that you're too busy to send them right away If you're unable to send an official birth announcement within the first few weeks after the birth, you can always send a short e-mail update or post a short social media message first and then follow up with a more formal, detailed announcement when you have time.Your baby birth announcement doesn't have to be complicated, just a few lines of important information will have everyone getting joyous about your newborn.
Related designs