Free printable Wedding templates, patterns, svg files, stencils, silhouettes and clip art designs. Wedding templates are an important aspect of planning a wedding. They set the tone and ambiance for the wedding, and they can reflect the personality and style of the couple. A wedding is one of the most important events in a person's life, and as such, it is a time when careful attention is paid to the overall decoration of the event. From the invitations to the decor, there are many elements that can be designed to create a cohesive and memorable wedding experience.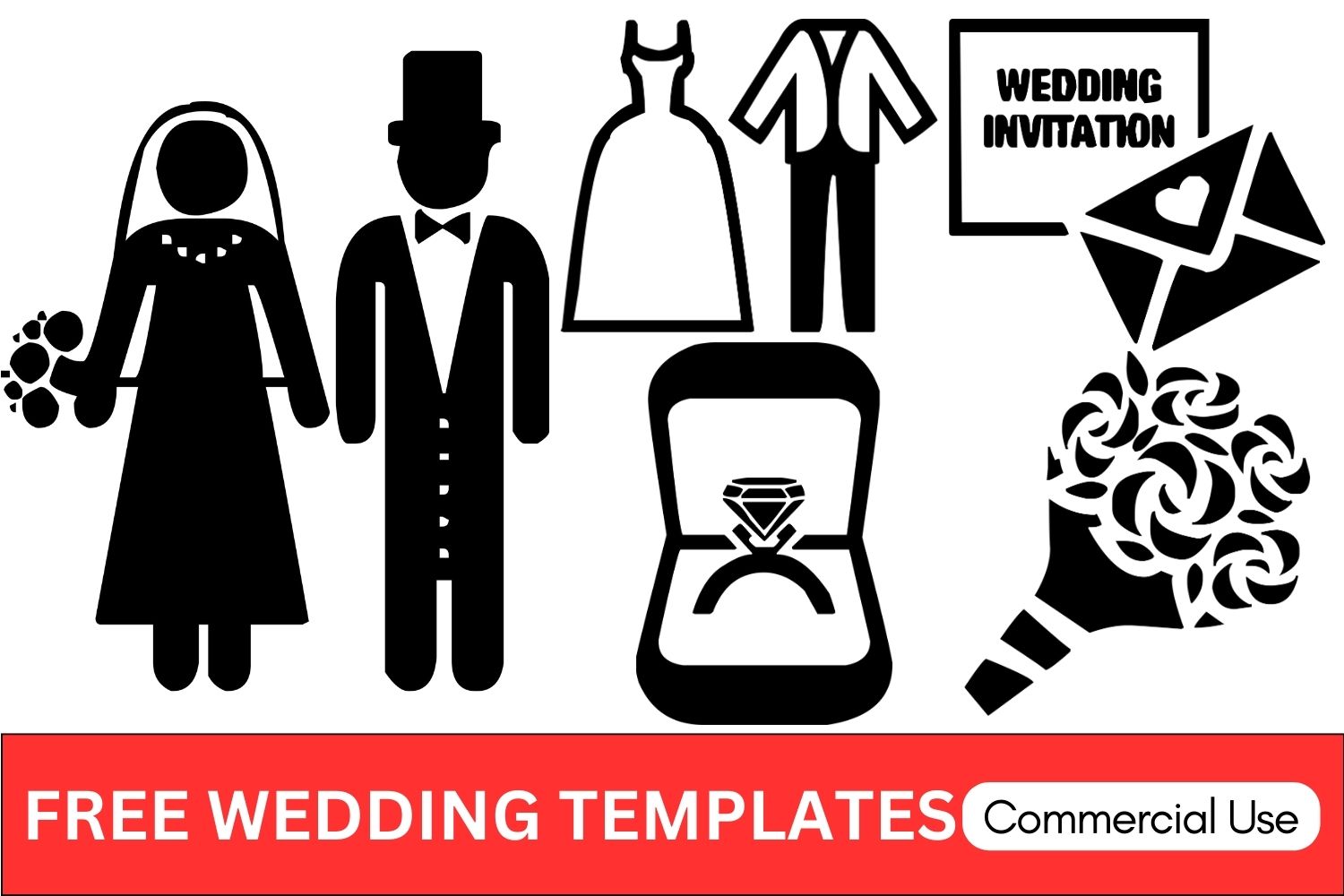 Wedding templates are designed to make the wedding planning process easier and more efficient. Templates also allow couples to create professional-looking wedding materials that are cohesive and coordinated, without having to have extensive design skills. Instead of starting from scratch and designing each element of the wedding materials individually, couples can use pre-designed templates as a starting point and customize them to fit their specific needs and preferences.
Wedding Templates (Free Stencils, Printables, Cliparts & Silhouettes)
Uses and Types of Materials
You can utilize these patterns, stencils, templates, models, and shapes for creating other unique objects or sublimation. With these designs you can create your own craft personalized, custom projects for your home, or even for selling online or at craft shows. These versatile designs are perfect for coloring pages and sheets, crochet patterns, drawing and painting, SVG files for Cricut and Silhouette machines, hobbies, holiday crafts, iron-on designs, kid crafts, laser cutting, needlecrafts, preschool printables, quilting, sewing, scrapbooking, sign making, string art (nail art), wall art, wedding crafts, woodworking projects, and other delightful DIY arts and crafts. Now create and make something truly special with these wonderful design resources!
These printable patterns can be easily transferred onto an array of materials, such as cardboard, cardstock, canvas, construction paper, fabric, felt, foam, glass, leather, metal, notebook paper, paper, parchment paper, photo paper, plastic, plexiglass, poster board, rubber, steel, vinyl, wax paper, wrapping paper, wood, and so many other types of materials. Experiment with different mediums and let your imagination soar as you create stunning projects that reflect your unique style and vision.
See more related patterns, Cliparts, SVG files. Download for FREE and use it for personal and commercial use.
In conclusion, wedding design templates play an important role in creating a memorable and beautiful wedding. From invitations to thank you cards and everything in between, templates can be customized to create a unique and personalized wedding experience and also provide many opportunities to showcase personal style and creativity. By incorporating these wedding templates, couples can create a wedding that truly reflects their personalities and creates ever-lasting memories for themselves and their guests.