Free printable Owl templates, patterns, svg files, stencils, silhouettes and clip art designs. Owl templates are a type of design pattern which is used for creating owl-shaped designs. These SVG designs feature a variety of owl-themed graphics, such as owl illustrations, owl patterns, and owl logos, among others. Owl Templates can be used by designers, illustrators, crafters, and anyone who needs high-quality owl graphics for their digital projects. They can be used in various contexts, such as educational materials, children's books, branding, and marketing materials.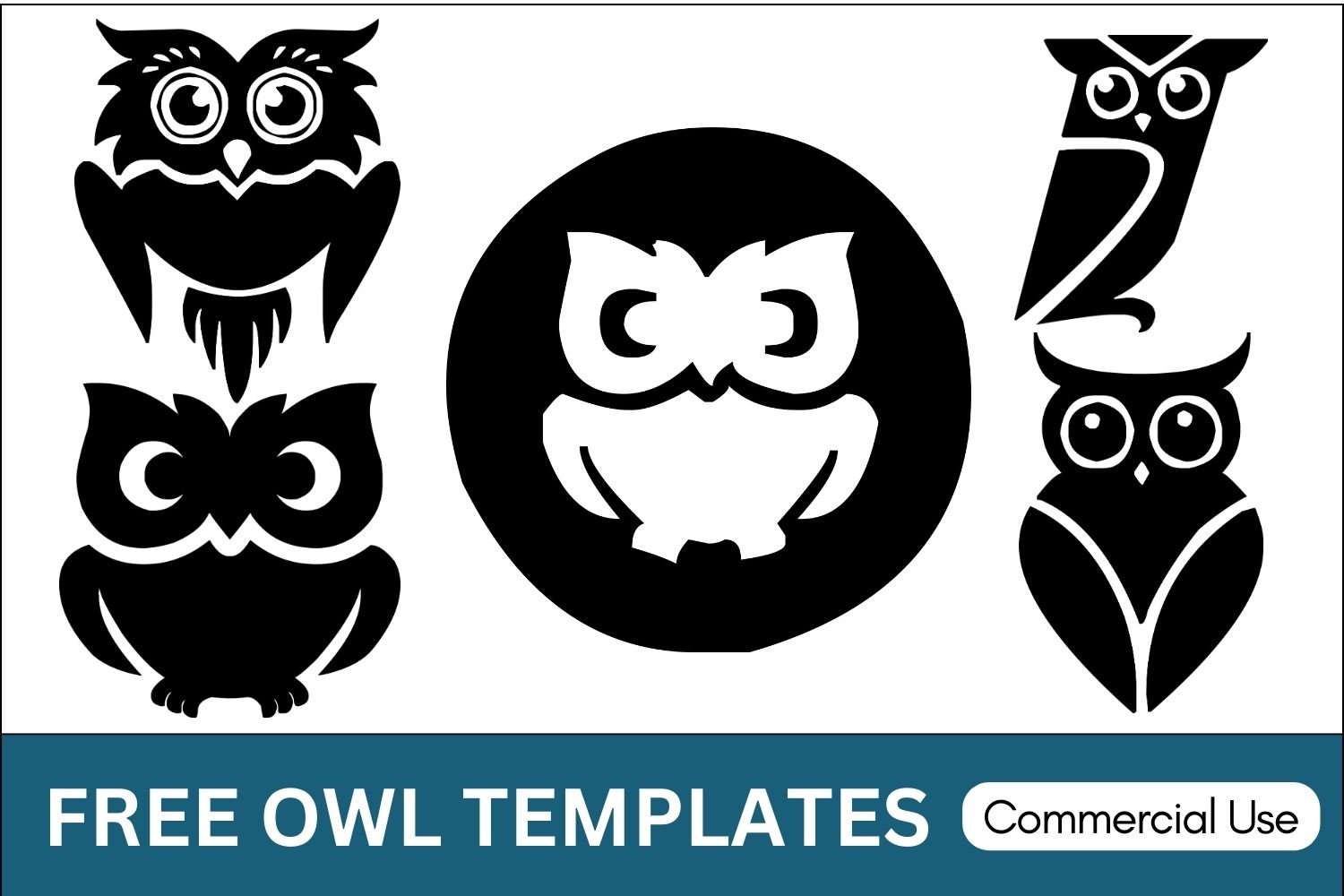 Owl Template svg designs are a useful resource for anyone looking for high-quality owl-themed graphics for their digital projects, whether they are graphic designers, web developers, or hobbyists. Free Owl Templates (Cricut designs, SVG files, and clip art for crafters and DIY projects).
Owl Templates (Free Cricut SVG Designs, Prinatbles, Silhouette & Cliparts)
Uses and Types of Materials
You can utilize these patterns, stencils, templates, models, and shapes for creating other unique objects or sublimation. With these designs you can create your own craft personalized, custom projects for your home, or even for selling online or at craft shows. These versatile designs are perfect for coloring pages and sheets, crochet patterns, drawing and painting, SVG files for Cricut and Silhouette machines, hobbies, holiday crafts, iron-on designs, kid crafts, laser cutting, needlecrafts, preschool printables, quilting, sewing, scrapbooking, sign making, string art (nail art), wall art, wedding crafts, woodworking projects, and other delightful DIY arts and crafts. Now create and make something truly special with these wonderful design resources!
These printable patterns can be easily transferred onto an array of materials, such as cardboard, cardstock, canvas, construction paper, fabric, felt, foam, glass, leather, metal, notebook paper, paper, parchment paper, photo paper, plastic, plexiglass, poster board, rubber, steel, vinyl, wax paper, wrapping paper, wood, and so many other types of materials. Experiment with different mediums and let your imagination soar as you create stunning projects that reflect your unique style and vision.
See more related patterns, Cliparts, SVG files. Download for FREE and use it for personal and commercial use.
Owls are often used in designs because they are cute, mysterious, and wise, making them a popular choice for a range of design styles and purposes. Owl silhouettes can be used on a variety of materials, depending on the intended use and design of the template. Owl cliparts can be used on a wide range of materials and can inspire creativity in various crafts and projects. The templates are designed to be user-friendly, customizable, and come with a variety of features and functionality.